Breakfast Bacon Enchiladas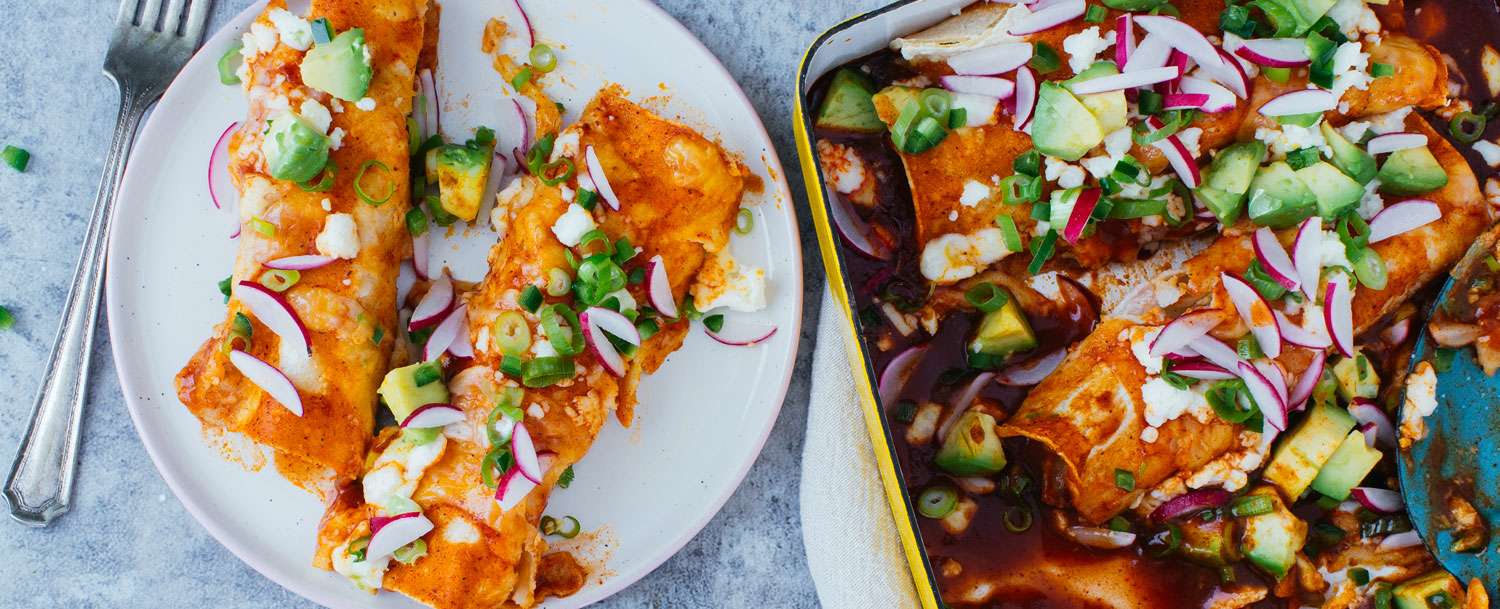 A colorful changeup from the usual bacon and eggs, these easy enchiladas can be easily doubled or tripled for a larger crowd.
Serves 4 | Total Time: Less Than 60 Mins
Ingredients
1 (8-ounce) package Applegate Naturals No-Sugar Bacon
4 large eggs
Kosher salt and freshly ground black pepper
12 corn tortillas
1 (5-ounce) package Applegate Organics Monterey Jack cheese, chopped
2 cups red enchilada sauce
½ cup crumbled cotija cheese
1 avocado, pitted, peeled and chopped
3 scallions, sliced
4 radishes, trimmed and thinly sliced
1 small jalapeño, seeded and finely chopped
Instructions
Cut the bacon crosswise into ¼-inch-thick pieces. Cook bacon in a heavy skillet over moderate heat, stirring frequently, until browned and crisp, 6–8 minutes.
While bacon cooks, beat together the eggs with a pinch of salt and pepper until well combined. Preheat oven to 350°F.
Keeping bacon in the skillet, pour off all but about 1 tablespoon of bacon fat. Add eggs to the skillet and cook, stirring constantly, until softly set. Remove from the heat.
Set a tortilla on your work surface. Add a spoonful of bacon and egg mixture along the bottom third of the tortilla. Sprinkle some of the chopped Monterey Jack cheese over top. Snugly roll tortilla around the filling. Arrange, seam side down, in a large gratin dish. Repeat with the remaining tortillas, eggs and Monterey Jack (you may not use all of the cheese).
Pour sauce evenly over the enchiladas and top with any remaining Monterey Jack. Bake enchiladas until bubbling, about 20 minutes. Remove from the oven.
Top enchiladas with crumbled cotija, chopped avocado, scallions, radishes and jalapeño. Serve at once.