Bacon Mac and Cheese Bites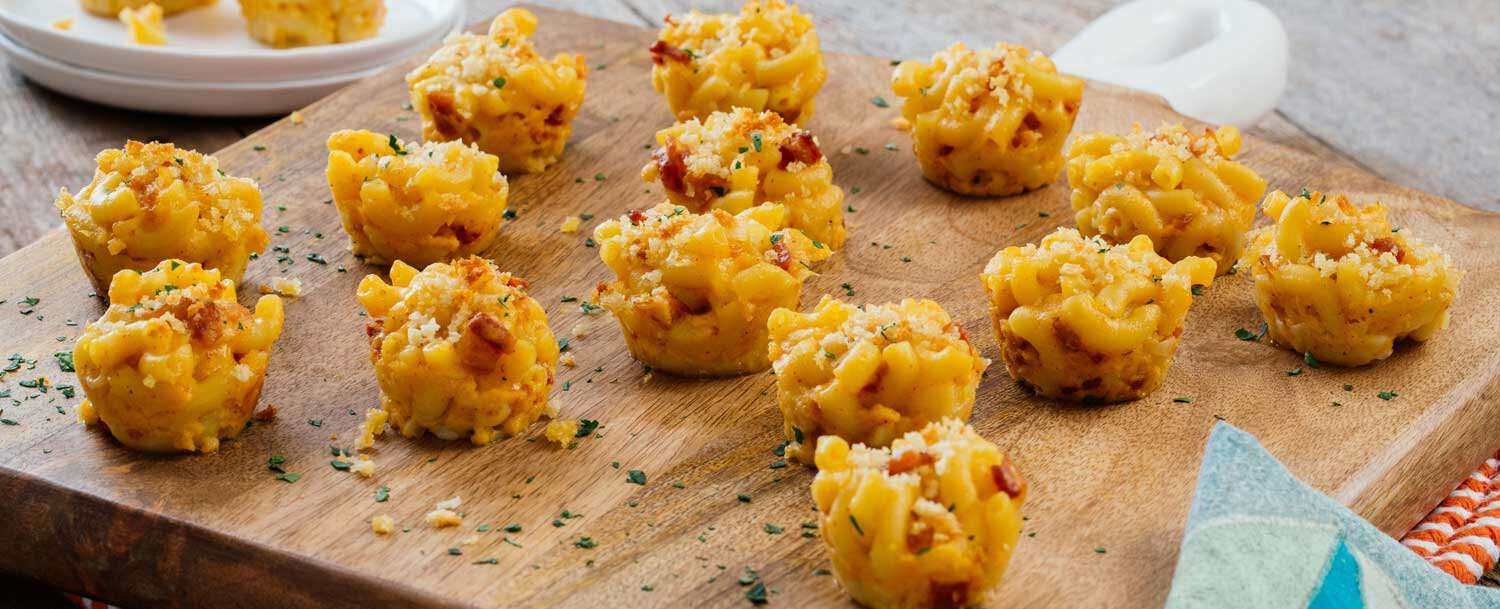 The magic of mac and cheese, perfectly bite-sized. And with bacon! Best of all, these savory little appetizers can be made fully ahead, frozen and reheated just before serving.
Makes 48 pieces | Total Time: Less Than 60 Mins
Instructions
Preheat the oven to 375°F. Lightly spray the insides of 48 mini muffin cups with cooking spray. 
Cook the macaroni in a pot of boiling well-salted water until just tender. Drain and set aside. 
Cook the bacon in a large heavy saucepan over medium heat, stirring occasionally, until crisp and golden brown. Using a slotted spoon, transfer the bacon to a paper towel–lined plate to drain. Transfer 2 tablespoons of the bacon fat to a small bowl. (you should have about 2 tablespoons fat left in the saucepan). 
Whisk the flour into the bacon fat remaining in the saucepan and cook, whisking, over medium-low heat for 3 minutes. Gradually whisk in the milk, then add the onion and paprika. Simmer gently, stirring frequently, until thickened and creamy, about 15 minutes. Remove from the heat and stir in the cheeses. Season with salt and pepper to taste. 
Stir the macaroni into the cheese sauce, then gently fold in the bacon. Divide the macaroni mixture evenly among the prepared muffin cups. Toss together the panko and remaining bacon fat and sprinkle evenly over the macaroni. Bake until the breadcrumbs are lightly browned, about 15 minutes. 
Remove from the oven and let stand for 5 minutes before removing from the muffin cups and serving.
*If making ahead: prepare and bake the macaroni as above (omitting the breadcrumbs), then remove from the tins and let cool completely. Arrange on a parchment-lined baking sheet and freeze until firm then transfer to a resealable plastic bag or airtight container and freeze for up to 1 month. To reheat, arrange the mac and cheese bites on a parchment-lined baking sheet, sprinkle with breadcrumbs and bake in a 375°F oven until warmed through.