Asparagus Salad with Bacon and Butter Lettuce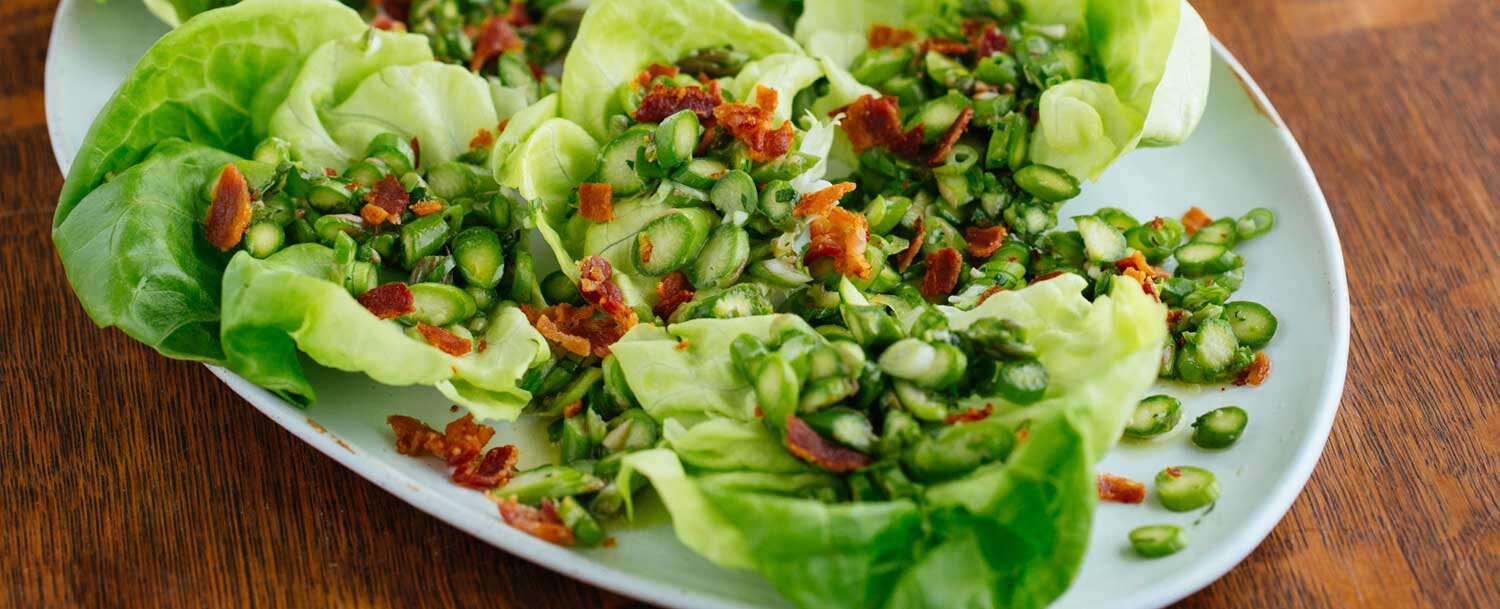 This raw salad is a great way to use those tiny asparagus spears that can go limp when cooked. The anchovy fillets add a savory (not fishy) note to the Caesar-like dressing, which tastes good on anything from hard-boiled eggs to roasted vegetables to grilled steak.
Serves 4 | Total Time: Less Than 30 Mins
Ingredients
For the salad dressing:
¼ cup finely grated Pecorino Romano cheese
3 anchovy fillets, finely chopped
1 small garlic clove, finely chopped
Juice of half a lemon, or to taste
¼ cup extra-virgin olive oil
Freshly ground black pepper
Handful of parsley leaves, finely chopped
For the salad:
1 pound thin fresh asparagus, trimmed and thinly sliced
2 scallions, thinly sliced
Handful of fresh mint leaves, finely chopped
4–8 butter lettuce leaves
4 slices Applegate Naturals ® Sunday Bacon ® Brand, cooked
Instructions
To make the salad dressing:
In a large mixing bowl, combine the cheese, anchovies, garlic and lemon juice.
While whisking, add the olive oil in a slow steady stream, whisking until emulsified.
Season to taste with pepper. Stir in the parsley.
To make the salad:
Add the asparagus, scallions and mint to the dressing and toss until the vegetables are well coated with the dressing.
Arrange the lettuce leaves on a large platter. Top with the asparagus mixture. 
Crumble the bacon over the salad and serve at once.