Upgrade Your Tailgate with this Flavor-Packed Grilled Sausage Bar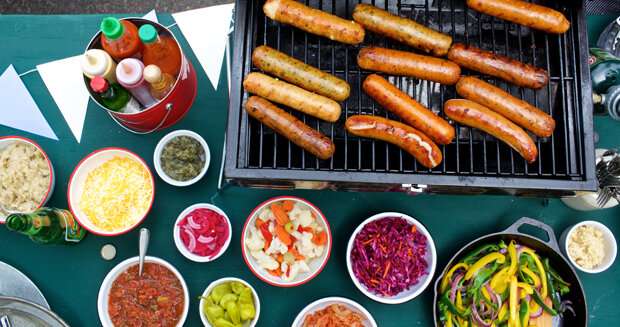 Tailgating season is upon us, and our favorite way to celebrate this year is with a grilled sausage bar. That way, what we have cooking on the grill takes very little time and attention while all the colorful and flavor-packed add-ons can be made ahead. Here's how we do it.
1. We throw a whole slew of Applegate dinner sausages on the grill—Sweet Italian, Beer Bratwurst, Chicken and Cheddar, Spinach and Feta, Fire Roasted Red Pepper, Peach Jerk, Chicken and Apple. We make small labels and group like sausages together, so people know what they're getting.
2. We bring along a ton of veggie-centric toppings that offer plenty of eye appeal: peppers and onions, of course (throw some poblanos in for a little heat); brightly colored red cabbage slaw; finely shredded kale salad (our current fave is dressed with mayo, plenty of lemon juice and a heaping spoonful or two of horseradish); salsa and guacamole; shredded cheese; tomato sauce; kimchi…the choices are practically endless.
3. We also like to make sure there are lots of pickled choices: sauerkraut (dress up the store-bought stuff by braising it in a can of beer with some shredded apple), pickled red onions, muffuletta salad, giardiniera, pickled peppadews and pepperoncini
4. A "condiment bucket" keeps things corralled and neat. Pack it with the usual suspects, plus a range of hot sauces, including Sriracha, jalapeño and chipotle.
5. We prefer lightweight, shatterproof enamelware over plastic for setting up the toppings, and make sure to pack enough serving utensils for each topping.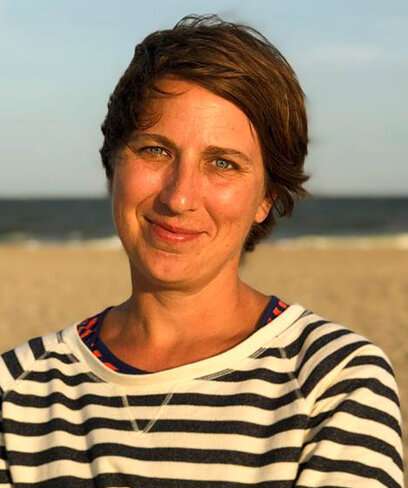 Kate Winslow
Kate Winslow is the author of Onions Etcetera: The Essential Allium Cookbook (Burgess Lea Press, 2017), as well as the co-author of The Agricola Cookbook and Coming Home to Sicily. A former editor at Gourmet magazine, Kate currently works with her husband Guy Ambrosino, a photographer, to test, develop and photograph recipes for cookbooks, magazines and, most fun of all, Applegate! Kate and Guy live along the Delaware River in New Jersey with their 12-year-old son, yellow lab and six chickens. Their work can be seen at kateandguy.com.