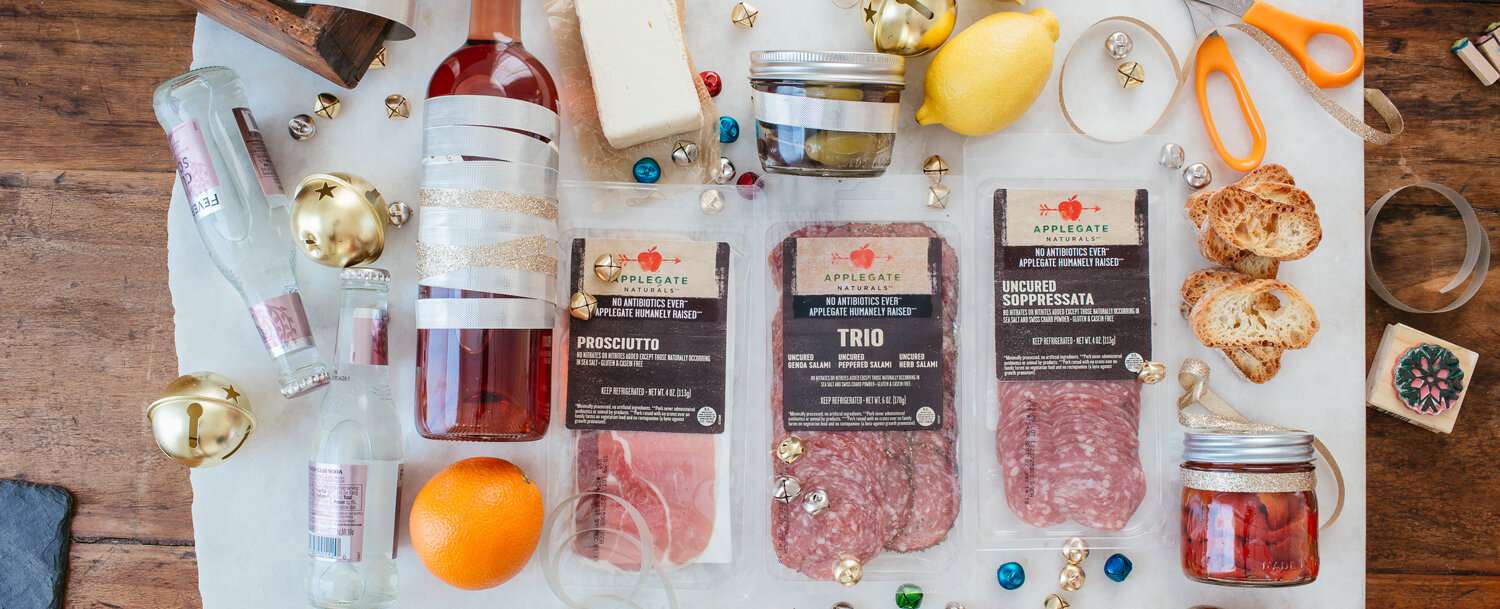 For friends who love to entertain—or for friends who need a little help in that department—give them the gift of a ready-made cocktail party. Start with a trio of good Italian meats, such as Applegate's Prosciutto, Salami and Soppressata, and round it out with crisp crostini, roasted peppers and a festive mix of marinated olives. And of course, a cocktail party needs cocktails! A bottle of artisanal vermouth is unexpectedly delicious. The bittersweet flavors of Campari, Aperol or Cynar also go well with naturally cured meats. Don't forget a bottle or two of club soda for mixing. Tuck all the goods into a handled basket for easy carrying and delivery. If you're lucky, they'll invite you to the party!
BONUS POINTS: Homemade roasted peppers and marinated olives taste amazing and require very little work. Make this basket even better by making your own. (Recipes and prep instructions below).
PREMIUM UPGRADES: A hunk of good Italian cheese, such as Taleggio, plus a couple lemons and oranges for garnishing cocktails. 
Marinated Olives
Seasoning olives with your own blend of oil and spices really makes them come to life. And this big flavor only takes about 5 minutes to achieve.
Makes about 4 cups
4 cups mixed olives, such as Picholine, Castelvetrano or Cerignola, drained
½ cup extra-virgin olive oil
4 strips fresh orange peel
4 strips fresh lemon peel
2 small dried hot chile peppers
1 teaspoon fennel seeds
2 teaspoons white wine vinegar
Prep Instructions
Place the olives in 1 quart-sized jar or divide between 2 pint-sized jars. 
Put the olive oil, orange and lemon peel, chile peppers and fennel seeds in a small skillet and heat over low heat until warmed through and fragrant, about 5 minutes. 
Swirl the vinegar into the warm oil, then pour the seasoned oil over the olives. 
Seal the olives and shake gently to coat the olives with oil and spices. 
Refrigerate for at least 2 hours and up to 2 weeks before serving, giving a gentle shake every now and then. 
Bring to room temperature before serving.
Roasted Peppers
Sweet bell peppers, roasted until tender and slicked with olive oil, are the perfect accompaniment to this gift basket. You can also add them to your next charcuterie platter!
Makes about 2 cups
4 bell peppers
4 garlic cloves, thinly sliced
1 small sprig fresh thyme
2 tablespoons extra-virgin olive oil
1 teaspoon Sherry vinegar
Pinch of kosher salt
Halve the peppers lengthwise and remove the stems, ribs and seeds. Arrange the peppers, skin sides up, on a baking sheet and broil under high heat until the peppers' skins have blackened all over, 6 to 8 minutes. 
Transfer the peppers to a bowl and cover tightly with plastic wrap or aluminum foil. Let the peppers steam and cool for about 10 minutes.
Peel away all of the blackened skin from the peppers, then tear the peppers into wide strips and place in a bowl. 
Add the remaining ingredients and toss together gently. 
Refrigerate in an airtight container until ready to serve (up to 5 days). Bring to room temperature before serving.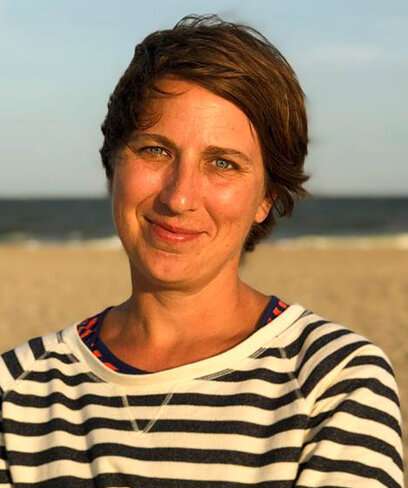 Kate Winslow
Kate Winslow is the author of Onions Etcetera: The Essential Allium Cookbook (Burgess Lea Press, 2017), as well as the co-author of The Agricola Cookbook and Coming Home to Sicily. A former editor at Gourmet magazine, Kate currently works with her husband Guy Ambrosino, a photographer, to test, develop and photograph recipes for cookbooks, magazines and, most fun of all, Applegate! Kate and Guy live along the Delaware River in New Jersey with their 12-year-old son, yellow lab and six chickens. Their work can be seen at kateandguy.com.