Super Quick Appetizers for Holiday Entertaining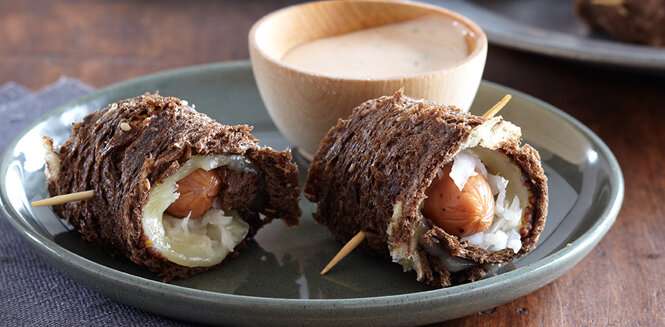 You never know who might show up at your door hungry during the holiday season: surprise house guests, carolers, or impromptu party-goers. These unexpected arrivals can be fun rather than stressful if you've equipped your pantry for easy entertaining.
The following are my go-to nibbles for the holiday season. Whether I'm throwing a party, bringing an appetizer to a friend's gathering, or feeding an unexpected crowd on the fly, I can get these on the table in just minutes and please every palate!
From the Pantry…
Tapenade. Olive, sundried tomato, or artichoke – you can pick any type you like and serve it in a little bowl alongside crackers, grilled bread, or chicken skewers. Mix it with fresh chopped herbs and spread on crostini, or blend with a container of ricotta cheese for a flavorful veggie dip.
Marinated veggies. Pickled asparagus or green beans, jarred artichoke hearts or roasted peppers, giant Italian beans or mini Gerkin pickles: just plate any of these up with some salami slices, chunks of robust cheese, and fresh basil leaves and you have yourself an antipasto platter.
Canned beans. Roast garbanzo beans for a crunchy, salty snack. Blend white beans in the food processor with jarred pesto and lemon juice for a quick Italian bean spread, or combine black beans with salsa and sour cream for tortilla chip-dipping.
Popcorn. The options for plain popped kernels are truly endless! Drizzle plain popcorn with warm caramel sauce, chocolate peanut butter, or melted butter and sprinkles of salt and sugar. For a savory treat, toss a little butter, grated Parmesan cheese, and chopped fresh herbs, or with hot sauce, lime and salt. Or go for the ultimate treat: cook a couple pieces of bacon until very crisp then drizzle popcorn with the bacon fat and toss with the crumbled pieces…mmm!
From the Fridge…
Soft cheese. My favorite is goat, since almost everyone loves it and it's so versatile. Roll a small log in fresh chopped herbs and serve with crackers, drizzle a hunk with honey and serve with toasted bread, or stuff into halved cherry tomatoes or sweet peppers and top with a candied nut. You can also mix goat cheese with chopped sundried tomatoes or fruit preserves and stuff into chicken breasts or pork chops for an easy entrée.
Hard cheese. Applegate's slices are perfect for last minute entertaining, and a big hunk of Parmesan cheese can be served in tiny chunks on an antipasto platter or grated and added to sauces, dips, pasta, or melted onto baguette slices and served with soup.
Cured meat. Wrap prosciutto around olives, dates stuffed with goat cheese, or slices of melon. Layer salami and arugula onto soft dinner rolls spread with mayo and mustard for quick mini sandwiches.
From the freezer…
Baguette slices. Before the season begins, thinly slice a couple of baguettes and store the slices in freezer-safe plastic bags. Whenever you need crostini for spreads or dips, pull out some slices and bake for 8-10 minutes with a drizzle of olive oil and sprinkle or salt.
Cookie dough. Store balls of uncooked dough (homemade or store-bought) in a container in the freezer, so you can pull out any number of dough balls when you need some fresh-baked cookies. Just make sure to freeze the balls on a baking sheet first, so that the dough doesn't clump together before it's frozen. Bake dough at 350 for 10-15 minutes.
Peeled deveined shrimp. Thaw these in a bowl of cool water, then bake at 400 for 2-3 minutes and serve with cocktail sauce for dipping. Or skewer the shrimp with cherry tomatoes, grill 1-2 minutes/side, then paint with your favorite pesto or salad dressing.
Complete recipe for the Reuben Dippers Image here

What are your own quick and easy go-to snacks for the holiday season?
Amelia
Amelia is a nutritionist, food-lover, and new mom who believes healthy eating should be easy and fun, not stressful or overwhelming. That's why she started Eating Made Easy, a site that answers your food & nutrition questions and offers practical tips to make eating at home easier. Next time you feel confused about what to eat, what to buy, or how to cook, head to Eating Made Easy to get Amelia's trusted, science-based advice.