Size Matters! A New Look for Our Bacon
Nothing is wonderful in quite the same way as good old-fashioned country bacon. Waking up to the smoky, happy, loving aroma of bacon wafting through the house? It's going to be a very good day. So we go to great lengths to make sure our natural and organic bacons—Sunday Bacon, Reduced Sodium Bacon, Turkey Bacon, and Canadian Bacon—are supremely delicious and satisfying.
We might be bacon maestros, but we are constantly striving to do better—better for our customers, and better for the earth. We set the bar high. And we came up with a way to make our bacon even better.
To clarify, the bacon's the same rich, meaty goodness you've come to know and love, made from humanely raised, antibiotic-free, vegetarian-fed animals. But we care deeply about sustainability, and are committed to ecologically sound, responsible practices. So we took a look at the package.
It turns out size really does matter! We devised a way to give you the same copious amount of bacon enclosed in less plastic. 37% less, to be precise. The result is a much smaller environmental footprint. We will be saving 75,000 pounds of plastic each year. That's a lot of plastic. Our mission is to supply you with products you can feel good about, and we're excited for a step that has brought us a little closer to achieving our ideals.
You'll notice a whole new presentation for our beloved bacon. We happen to think it's quite snazzy! It shows off what's inside: nitrate and nitrite-free, award-winning, absurdly crave-able bacon. Heat up that pan!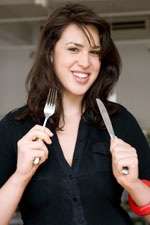 Hannah Howard
Hannah Howard is a food writer who spent her formative years eating, drinking, serving, bartending, hostessing, cooking and managing restaurants. She now writes about delicious things for a living.