Quick and Easy Snacks for Eating Gluten-free While On-the-Go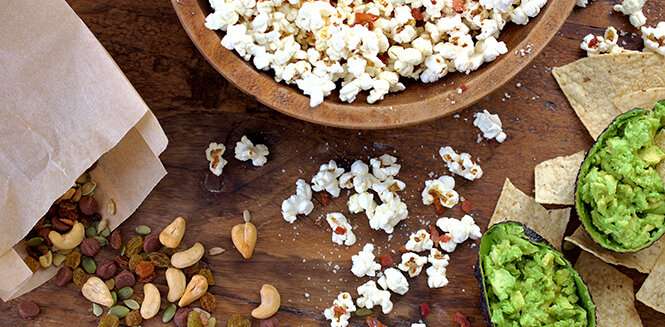 For many people, summertime means that it's time to hit the road, the beach, or the trailhead. However, when you're gluten-free or have a gluten-free family member, stopping for food at a restaurant or convenience store on the way to your summer destination may not be ideal. Instead, along with some sunscreen and bug spray, you'll need to bring along gluten-free snacks that will travel well, are convenient to eat on-the-go, and that will be enjoyed by everyone, including family members who aren't gluten-free.
Depending on the length of your trip, you'll need to bring a cooler or two for snacks and drinks that need refrigeration. For serious outings, a large cooler in the back of your car along with a smaller insulated bag that can ride up front may be the way to go. Some naturally gluten-free snacks to stock your coolers with include:
• Yogurt (in tubes or cups)
• Cut up fruits and veggies (grapes, carrot sticks, and apple slices)
• Cheese (sticks, cubes and mini-rounds)
• Peeled hard boiled eggs
• Fruit and applesauce cups
• Deli meat slices
• Single serving sizes of juice, milk (or alternative milks) and water are a must, too
If you're taking a short trip and just need to grab a quick gluten-free snack to keep you going, consider stocking the car with foods that don't need refrigeration such as:
• Gluten-free granola, trail mix, or cereal
• Nuts
• Gluten-free snack bars
• Fruit leather, whole fruit, and jerky (double check the label to make sure it's gluten-free!)
These snacks are perfect for tucking into your beach bag, your day camper's lunch bag, or in your backpack before leaving for a hike; however, you don't need to rely on premade gluten-free snacks. Making your own can help you stay on budget and will ensure that no gluten accidentally gets in your food. Going the homemade route can also be a fun family project! For example, homemade trail mix is something that's easy enough for the kids to help prepare. With an adult's help, they can combine their favorite gluten-free cereal with ingredients such as a mix of nuts, seeds, chocolate chips, dried fruit, and shredded coconut.
You can also make your own dried fruit, fruit leather, and beef jerky in a dehydrator. There are dozens of recipes online, and it's much easier to do than you think. You may want to make your own gluten-free snack bars, too!
Finally, when packing your snack bag or cooler, don't forget a roll of paper towels or napkins, reusable spoons and containers, and a trash bag or two. Gluten-free snacking on-the-go can be easy if you plan ahead, but you'll want to be prepared in case it gets messy, too!

Anne-Marie Nichols
Anne-Marie Nichols is a social media consultant and healthy food and lifestyle blogger. Since 2004, her blog, This Mama Cooks! On a Diet™, has provided busy moms and their families with healthy recipes and lifestyle tips. With healthy eating in mind, her recipes focus on practical and delicious food that the whole family will love. That's why Anne-Marie was chosen twice as one of Babble's Best Mom Food Bloggers.
You can find her on:
More posts by Anne-Marie Nichols