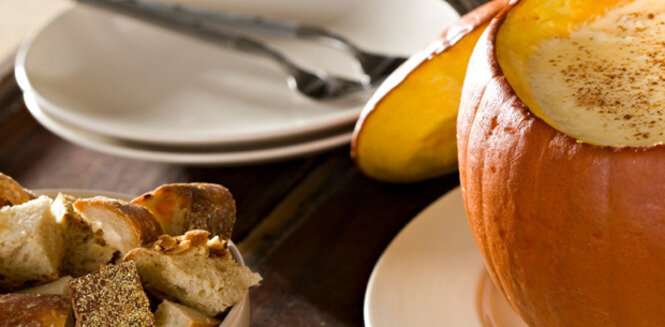 Fondue nights are a fun way to liven up a halloween party or family dinner, particularly as the weather turns colder and winter approaches. Kids seem naturally drawn to dips, after all, and gooey melted cheese is sure to please kids of all ages. 
Baked in a hollowed out pumpkin, this version is sure to impress as a halloween party appetizer or you can make a meal out of it by providing cooked sausage, boiled new potatoes and vegetables for dipping. We like red and green pepper strips, blanched broccoli and apple slices. And, be sure to scrape out the pumpkin flesh – it's a serving dish you can eat. (How fun is that?)
Ingredients:
1 small pie pumpkin
1 cup cubed wheat bread
8 ounces asiago cheese, shredded
1/2 cup heavy cream
1/2 cup chicken stock
1 tablespoon corn starch
1/8 teaspoon nutmeg
Cubed bread, meat and/or vegetables for dipping
Instructions:
Cut top off of pumpkin and scoop out seeds and stringy interior. (Reserve seeds for roasting.) Place hollowed pumpkin in a shallow baking dish.
Preheat oven to 375 degrees.
In a saucepan over medium low heat, whisk together the cream, stock and corn starch. Cook, stirring frequently, until mixture just begins to simmer. Then stir in nutmeg and add cheese, a little at a time, whisking until all the cheese is melted. Remove from heat.
Spread bread cubes in the bottom of the pumpkin. Pour cheese sauce over the bread and bake for about 45 minutes, until cheese sauce is bubbly and slightly golden brown. Pumpkin should be tender when pricked with a fork.
Serve with cubed bread and other desired dippers.
Note: Use caution when serving -- the pumpkin will be hot! Be sure to use long-handled fondue forks, or skewers if you don't have fondue forks. You can also spoon out some of the cheese sauce onto plates for younger children.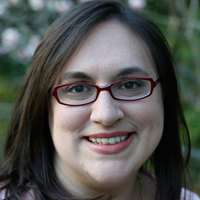 Colleen Levine
Colleen Levine is a mother of two who squeezes in visits to the farmers market between baseball practice and toddler gym classes, and occasionally finds time to blog about raising foodies on real food at FoodieTots.com. Find her on Twitter @foodietots.