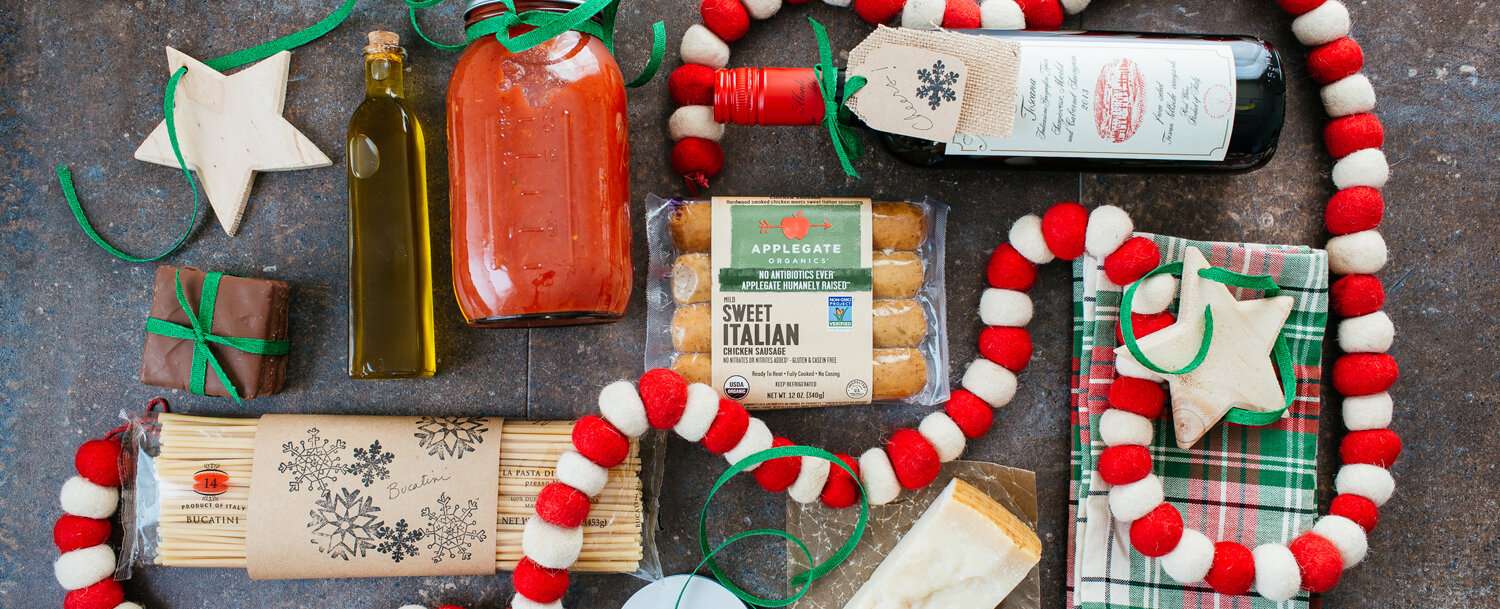 For the friends who are moving at the speed of sound, trying to get it all done (hey, isn't that all of us?), and find themselves at the end of the week with only enough energy to order takeout, give the gift of a quiet Friday dinner. Wrap up the right goodies—a pound of really good dried pasta, a jar of deeply flavored tomato sauce, a pack of Organic Sweet Italian Sausage, a bottle of olive oil, and a wedge of Parmigiano—and dinner is practically on the table. Pack everything in a sturdy box lined with crinkled or shredded butcher paper to keep the bottles and jars secure. Splurge on a good bottle of red wine and watch dinner become a celebration.
BONUS POINTS: Homemade sauce is a true gift from the heart. Our easy recipe makes lots—enough to share AND to keep some for yourself. Win win! (Recipe and prep instructions below).
PREMIUM UPGRADE: What's dinner without dessert? Sneak in a little sweet treat—a couple bars of deep, dark chocolate should do the trick nicely.
Friday Night Tomato Sauce
If you're making sauce as a gift, you might as well make enough for yourself, too! We like to store this in 1-quart jars, the perfect amount for a pound of pasta.
Makes 3 quarts
¼ cup olive oil
1 large yellow onion, finely chopped
4 to 6 garlic cloves, finely chopped
4 (28-ounce) cans whole plum tomatoes
1 teaspoon dried oregano
1 bay leaf
Pinch of crushed red pepper flakes
Kosher salt
Heat the olive oil in a large heavy pot over medium heat. Add the onions and garlic and cook, stirring occasionally, until softened, about 10 minutes. 
Add the tomatoes, oregano, bay leaf, red pepper flakes, and 1½ teaspoons salt. 
Bring to a boil, then reduce the heat to medium-low and simmer gently, stirring from time to time and crushing the tomatoes with a wooden spoon, until the sauce is slightly thickened and deeply flavored, about 1 hour. 
Taste and adjust the seasonings, as desired. Serve at once, or transfer to quart jars, let cool completely, then seal and refrigerate for up to 5 days or freeze up to 1 month.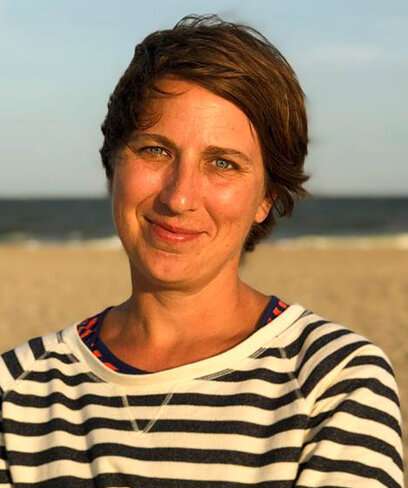 Kate Winslow
Kate Winslow is the author of Onions Etcetera: The Essential Allium Cookbook (Burgess Lea Press, 2017), as well as the co-author of The Agricola Cookbook and Coming Home to Sicily. A former editor at Gourmet magazine, Kate currently works with her husband Guy Ambrosino, a photographer, to test, develop and photograph recipes for cookbooks, magazines and, most fun of all, Applegate! Kate and Guy live along the Delaware River in New Jersey with their 12-year-old son, yellow lab and six chickens. Their work can be seen at kateandguy.com.