How to Set Up a Beautiful, Bountiful Bacon Bar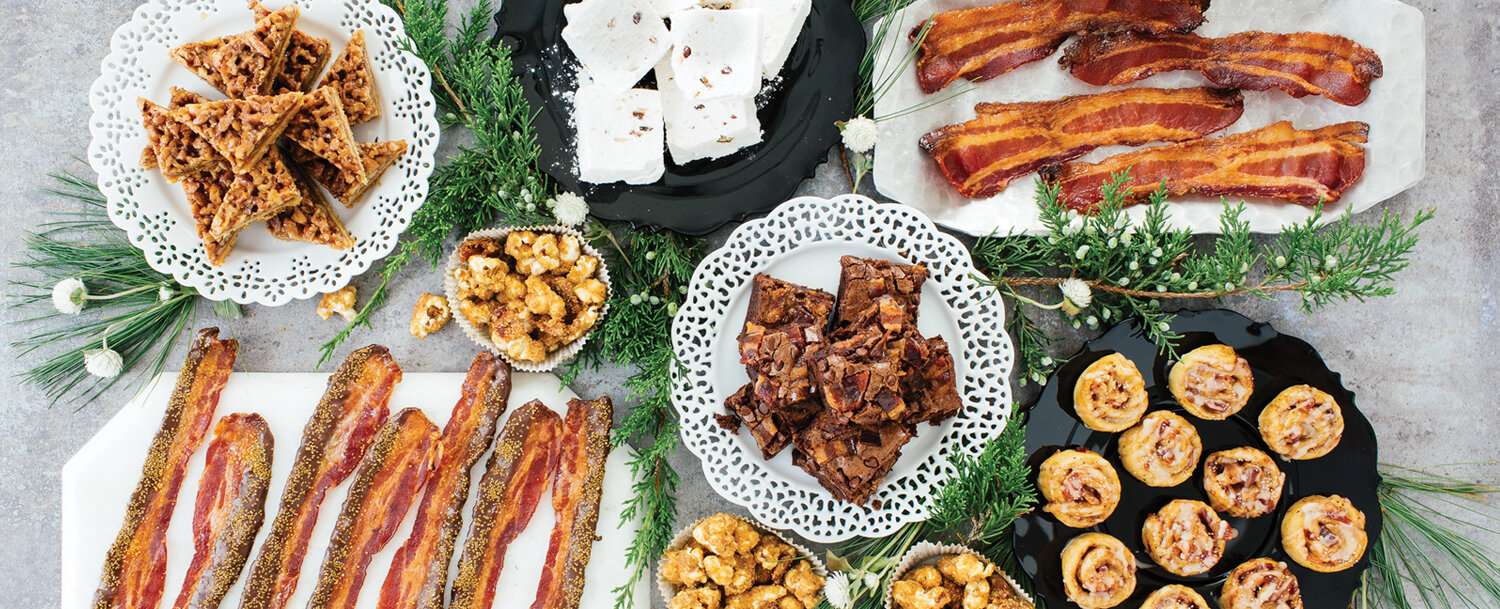 Bacon is the great equalizer (everyone has that one friend who says they're a vegetarian "except for bacon!"), and it also makes a great centerpiece to a party. We love to showcase another side of this favorite breakfast meat by setting up a bacon bar full of sweet treats. Here's some of what we think about when we do it.
1. First, make sure you start with the right bacon. We like to use Applegate Naturals® Sunday Bacon® Brand—it crisps up beautifully and works best when making candied bacon, which takes us to #2…
2. Our first order of business is to make some candied bacon—bacon that has been sprinkled with some sort of sweetener and spice and then baked until crisp and sticky-sweet. It should be the centerpiece of any self-respecting bacon bar. For inspiration, look to our recipes for Cinnamon Toast Bacon, Spicy Maple Candied Bacon, Cocoa Candied Bacon, Pumpkin Pie Spiced Candied Bacon and Spicy Brown Sugar–Glazed Bacon. If you want to fancy up these crisp strips, dip one edge in melted chocolate or sprinkle on a little sparkling sugar (or do both!). In addition to being served on its own, candied bacon can be chopped up and… 
3. …used to add a savory bass note to some classic desserts, like caramel corn, homemade marshmallows, pecan bars and chocolate bark. If you like a sprinkle of sea salt in your favorite sweets, you'll love a hit of bacon. 
4. But you can also just start with good ol' plain bacon that hasn't been candied. Try sprinkling shards of crisp bacon over brownies. Adding chopped bacon to your favorite cinnamon roll recipe makes a delicious treat even more decadent (a maple glaze goes perfectly). 
5. Finally, don't forget about bacon fat! It's a side product that is well worth saving and using in its own right. (When cooking bacon, we pour the fat into a glass jar, seal it and stow it in the fridge for later use.) We combine it with butter for Bacon Chocolate Chip Cookies and use it to start an ultra-rich Hot Chocolate, which is awfully nice with a sparkly bacon-sugar rim.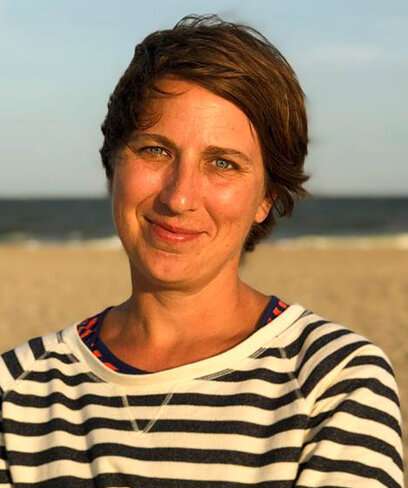 Kate Winslow
Kate Winslow is the author of Onions Etcetera: The Essential Allium Cookbook (Burgess Lea Press, 2017), as well as the co-author of The Agricola Cookbook and Coming Home to Sicily. A former editor at Gourmet magazine, Kate currently works with her husband Guy Ambrosino, a photographer, to test, develop and photograph recipes for cookbooks, magazines and, most fun of all, Applegate! Kate and Guy live along the Delaware River in New Jersey with their 12-year-old son, yellow lab and six chickens. Their work can be seen at kateandguy.com.