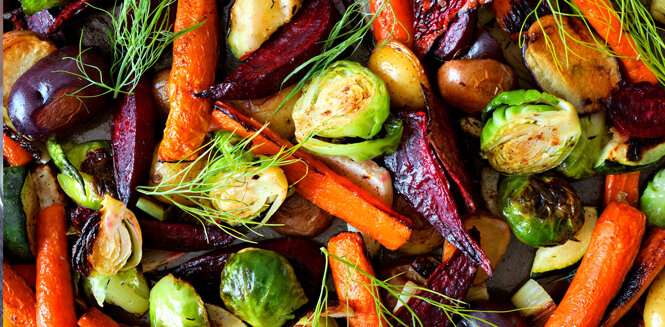 How did I get my husband to finally eat cauliflower? I roasted it. Carrots? I roasted them. Brussels sprouts? I roasted them … with bacon.
Roasted vegetables are cooked at high heat to evaporate moisture, and thus intensify their flavor. The natural sugars within the vegetables also caramelize a bit, adding a delightful sweetness. In other words, roasting makes vegetables taste awesome.
Now that we have the "why roast vegetables" covered, let's move to the how to roast vegetables part. Before you jump into the recipe, here are some quick tips:
Don't be modest. Make more than you think you'll need. Vegetables shrink in half when roasted, so you may be surprised how quickly a pound is devoured.
Keep things equal. Cut the vegetables into similar sizes, so that they cook at about the same rate. Also, pairing up similar vegetables can help. Carrots and parsnips are very firm and will roast at a similar rate, so they can be a good match on the same pan. Likewise, potatoes and sweet potatoes are a suitable roasting pair.
Cheating is allowed. If you're worried that the veggies won't be sweet enough for your crew, you can add 1 to 2 teaspoons of maple syrup or honey (per pound of veggies) with the oil to help enhance the natural sugars.
Give the veggies some space. Use a baking sheet or pan with low sides, and spread the vegetables out. Overcrowding can lead to a steaming effect, trapping the moisture rather than letting it evaporate.
Turn up the heat. To roast, keep the temperature at 400ºF to 500ºF. Lower oven temperatures will "bake" the vegetables, rather than roasting them, and won't easily give you the nice caramelized effect.
Acclimate your cooking. Those in a more humid climate may need to turn the temperature up higher, or cook the vegetables longer, while those in a dry climate should keep a close eye as the moisture will evaporate more quickly and could take your veggies from caramelized to burnt in minutes.
Basic Roasted Vegetables (Carrots)
Serves 3
Ingredients:
1 lb peeled, chopped carrots (I start with 1.25 lbs of whole carrots), about 1/2-inch to 3/4-inch thick pieces
1 tablespoon olive oil or melted coconut oil
1/4 to 1/2 teaspoon salt
Fresh ground pepper
Up to 1 tablespoon chopped fresh herbs, optional (dill or thyme go nicely with carrots)
Directions
Preheat your oven to 425ºF
In a medium bowl, toss the carrot with the oil, salt, and as much freshly ground pepper as you would like.
Spread the carrots out on a baking sheet, and roast them for 15 minutes.
Stir, and return them to the oven for another 10 to 20 minutes, or until they are cooked to your liking. If using fresh herbs, toss them with the vegetables as soon as you pull the baking sheet from the oven.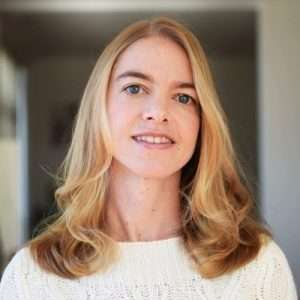 Alisa Fleming
Alisa Fleming is the founder of the largest dairy-free website, Go Dairy Free, and author of the best-selling special diet book, Go Dairy Free: The Guide and Cookbook for Milk Allergies, Lactose Intolerance, and Casein-Free Living. Alisa is also a freelance writer for several health-oriented publications and a recipe creator for the natural food industry with an emphasis on dairy-free living and other special diets. www.godairyfree.org