Easy Meal Planning Tips for Moms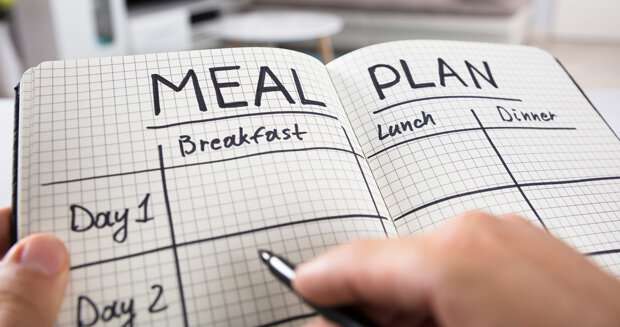 With summertime over and the kids back in school and activities, you may be struggling to fit healthy home-cooked meals into your hectic daily routine. Time for some meal planning.

Meal planning sounds kind of hard, or like you have to be a super organized parent to pull it off, but it's actually really easy and not that time-consuming once you make it a habit.

Here are 7 expert tips to get you started.
Get help. No need to spend hours developing your own dinner schematic when there are tons of user-friendly websites and apps that do this for you. Food On the Table, Plan to Eat, Meals Matter, and Evernote are just a few of my favorite tools to make planning, shopping, and cooking a whole lot easier.
Plan based on what's in season: Eating seasonally is healthier, tastier, and cheaper, but it also makes meal planning easier because it limits your ingredient choices. When you have less to choose from, you'll feel less overwhelmed.
Keep meals simple: Eating seasonally will help, because produce at it's peak ripeness doesn't need much manipulation to taste good. Sliced heirloom tomatoes with avocado and olive oil = salad. Fresh corn off the cob with black beans, salsa, and cheese on tortillas = burritos. You really don't even need recipes, you just need some inspiration (which you can find in a flash on Pinterest).
Prep foods ahead of time: Wash, chop, slice, dice, and marinate on the weekends, so that weekday prep is much faster. Or, buy pre-washed and chopped produce in the grocery section (pricier but sometimes worth it).
Involve the kids: Utilize your in-house free labor (ha!) and have fun by involving your kids in meal preparation. Yes, things take a little longer, but they'll have fun, acquire kitchen skills, and be more likely to eat what is served.
Keep a well-stocked pantry: If you have beans, sauce, pasta, grains, canned tomatoes, chicken broth, coconut milk, and nuts in the pantry, plus some frozen veggies and/or meat in the freezer, weeknight meals will come together easily even if you haven't made it to the store.
Have a back-up plan: On days when chaos erupts and executing your meal plan is the last thing on your agenda, you'll need a Plan B.
Luckily, Plan B doesn't have to mean swinging through the drive-thru or eating out. It can be breakfast-for-dinner, grilled PB&Js, or boxed pasta with jarred sauce. If you always have a few things in your pantry and fridge, you'll never be out of ideas when you're out of time.
Amelia
Amelia is a nutritionist, food-lover, and new mom who believes healthy eating should be easy and fun, not stressful or overwhelming. That's why she started Eating Made Easy, a site that answers your food & nutrition questions and offers practical tips to make eating at home easier. Next time you feel confused about what to eat, what to buy, or how to cook, head to Eating Made Easy to get Amelia's trusted, science-based advice.