9 Gluten-Free Tasty Tips for Adults and Kids
We've created a gluten-free recipe that you can enjoy anytime of the year- it's perfect for a weeknight meal and you can easily serve the leftovers the next day in gluten-free wraps or pitas for the kids!
Follow the 9 tips below to live a more tasty gluten-free lifestyle!
Turn your salad into wraps for kids with gluten-free whole grain wraps or use lettuce leaves (such as Romaine) to make fun lettuce wraps and finger foods for the kids!
Eat whole, natural foods and fill your plate with 8-10 servings of veggies a day alongside lean antibiotic-free proteins like Applegate Organic Chicken Nuggets. Try adding spinach to your breakfast smoothie, red bell peppers to your afternoon salad and roasted cauliflower with your dinner.
Relax your nervous system so you can be in a calm rest and relaxation state while you're eating. Kids often rush through their meals and end up with a stomach ache. Teach them how to slow down and chew their food at least 15 times for each bite. For parents, teach yourself how to slow down and start saying no to obligations and saying yes to yourself.
Don't fear fat. Fat won't make you fat. Try adding more healthy fats such as walnuts, avocados and extra-virgin olive oil to your meals and snacks.
Add protein to your meal with Applegate Chicken Nuggets and pair them with a healthy fat such as guacamole or hummus.
Add flavor to your salads and stir-fries with fresh herbs such as basil, parsley, cilantro and chives. Try adding a handful of fresh herbs to a wrap with Applegate Chicken Nuggets for extra flavor and freshness.
Use garlic, ginger, cinnamon and turmeric to add a kick of flavor to your weeknight meals without sugar. Try adding garlic and ginger to Applegate Natural Chicken Strips to sauté with spinach or add a sprinkle of cinnamon and turmeric to Applegate Chicken Nuggets and serve with honey.
Pair your chicken nuggets with unique dipping sauces for a fun kind-friendly dinner such as tamari (gluten-free soy sauce), marinara sauce, honey, pure maple syrup, creamy almond butter, tahini (sesame seed paste), hummus and mashed avocado.
Add gluten-free whole grains for an easy weeknight well-rounded meal such as quinoa, wild rice, brown rice, teff, sorghum and millet. Cook up a batch of your favorite grains on Sunday night and store them in the fridge in a sealed container for the week to use in lunches and dinner.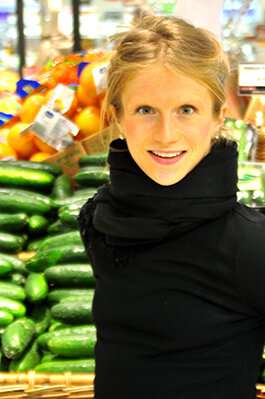 Amie Valpone
Amie Valpone, HHC, AADP is a Manhattan based Personal Chef, Culinary Nutritionist, Professional Recipe Developer and Food Writer specializing in simple Gluten-Free, Dairy-Free 'Clean' recipes for the home cook. She is the Editor-in-Chief of The Healthy Apple and the Publisher and Marketing Director of the online gluten-free magazine, Easy Eats. Follow Amie on Twitter @TheHealthyApple and on Facebook at The Healthy Apple //thehealthyapple.com