5 Steps To An Easy Beach Picnic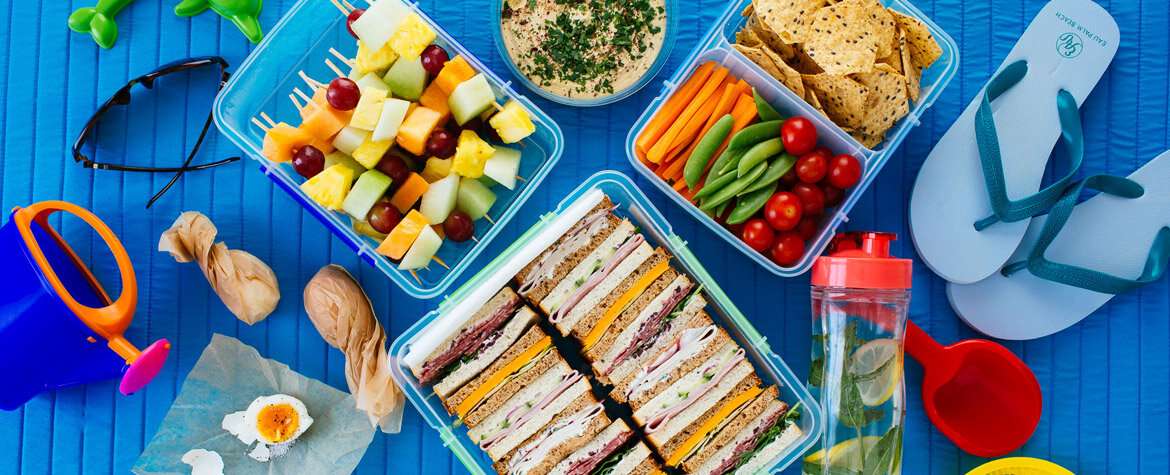 When our family hits the shore this August, we have a plan for lunch so we can maximize our beach time, save money and—this is super important—stay hydrated. We pack everything in reusable lightweight containers that stack easily in a cooler, slip in a few ice packs and head out for the day, knowing that we have the fuel to keep us going the distance.
1. Sandwiches for the Masses: With the hopes of pleasing everyone, we make a variety of small sandwiches on both white and multi-grain sandwich breads. The key to a sandwich that tastes great even after a few hours in the cooler is to choose your ingredients wisely—in addition to meats and cheeses, go for hardy greens and thinly sliced crisp vegetables or fruit (which add freshness and crunch without the sog factor) and use a light hand on the spreads. Here, we have slow-cooked ham with lightly pickled cucumber and red onion; oven-roasted turkey with herbed goat cheese and thinly sliced radishes; Genoa salami with olive cream cheese and arugula; and cheddar with apples and mustard.
2. Fruit Skewers: Cold, fresh, juicy fruit tastes so good after playing in the surf. Rather than risk an entire bowl of fruit getting gritty from small, sandy hands reaching in, take a few minutes to thread grapes and chunks of honeydew, cantaloupe and pineapple onto bamboo skewers.
3. Hard-Boiled Eggs: A classic. We place each egg, still in its shell, on a square of parchment paper, add a pinch each of coarse salt and ground pepper, and then wrap the whole thing tightly, twisting the top closed. When you're ready to eat, unwrap the parcel, shell the egg, and your seasoning is right there.
4. Hummus and Veggies: We like to doctor up store-bought hummus by adding a squeeze of lemon and some chopped herbs—it really freshens things up. To go with, we pack a container of fresh veggies, such as sugar snap peas, carrots, bell peppers, cucumbers and cherry tomatoes, and some chips (of course!).
5. Refreshing Infused Water: Everyone packs their own bottle of ice water for the day, adding whatever fresh flavorings (in the form of thinly sliced fruits and herbs) they like. Some that we love: kiwi with lemon and mint; cantaloupe with lime; strawberries with basil; cucumber and orange.
What about dessert, you ask? Simple. We wait for the jingle of the ice cream truck!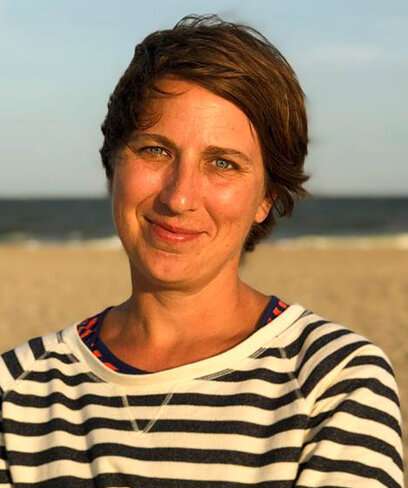 Kate Winslow
Kate Winslow is the author of Onions Etcetera: The Essential Allium Cookbook (Burgess Lea Press, 2017), as well as the co-author of The Agricola Cookbook and Coming Home to Sicily. A former editor at Gourmet magazine, Kate currently works with her husband Guy Ambrosino, a photographer, to test, develop and photograph recipes for cookbooks, magazines and, most fun of all, Applegate! Kate and Guy live along the Delaware River in New Jersey with their 12-year-old son, yellow lab and six chickens. Their work can be seen at kateandguy.com.