5 Steps to a Sweet and Savory Brunch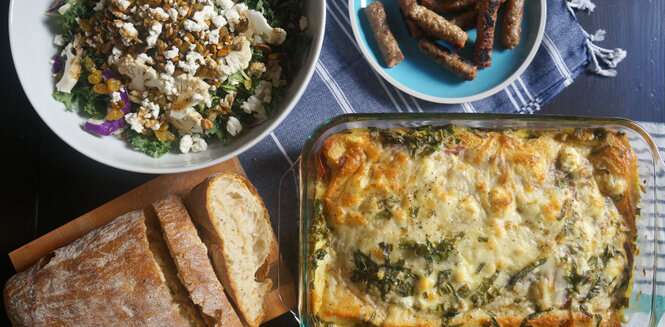 Brunch is the best. It gives you permission to mix two great meals into one sweet and savory occasion. As winter approaches, we fill our brunches with heartier dishes and create a spread that's inviting and warm. Here are some recipes and ideas to inspire your next brunch:
Bake a delicious Egg Strata: Layers of thick white bread, Applegate Prosciutto, crumbled goat cheese, Applegate Provolone Cheese, and chopped scallions & basil are flooded with a blend of milk, eggs, and Dijon mustard to make this savory, warm crowd-pleasing recipe. 
Balance out the warmth and heft of the strata with a cool, wintry salad of chopped kale and red cabbage, shaved raw cauliflower, golden raisins, crumbled goat cheese, salted pistachios, and your favorite vinaigrette. The kale, cauliflower and raisins bring winter heartiness that everyone craves. 
Accompany your strata and salad with a plate of pan-fried Applegate Chicken & Maple Breakfast Sausage. The sweetness of the Maple will cut the sharpness of the cheese and prosciutto that are layered throughout the strata. 
Every brunch table needs a good loaf of bread. Head to your favorite bakery and grab a loaf of ciabatta or sourdough and throw it in the oven as your food is cooking. It will be toasty and ready to eat when your guests are. 
For drinks, you can serve up fresh orange juice and brew up a pot of coffee (we love using the Chemex!) 

Gina Gancheva
Gina Gancheva is a Brand Manager at Applegate and has happily been with the company since 2012. She focuses on all aspects of the brand, from campaigns to new product development, and is passionate about Applegate's mission of "Changing the Meat We Eat". She and her husband Andy have a daughter named Eleanor, who just turned 3. Until the fall, they were long-time residents of Jersey City, New Jersey, before making a big move out west to Denver, Colorado, which they now call home.