5 Fully-Loaded Baked Potatoes for the Big Game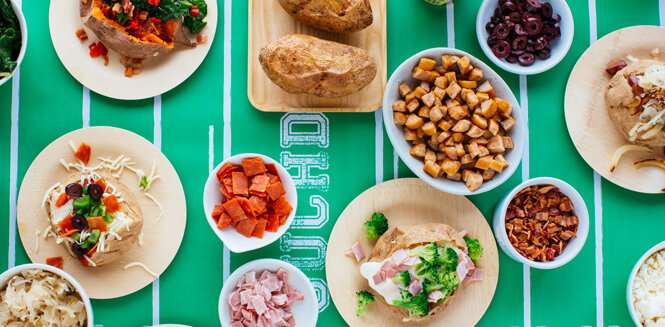 With the right toppings, a baked potato bar will make everyone at your big game party happy, vegetarians and carnivores alike. First off, make sure to offer both regular russets and baked sweet potatoes. We scrub the potatoes well, prick them a few times with a fork and bake then in a 400°F oven until fully tender, about 1 hour. Russet potatoes can go directly on the oven rack, but we lay the sweet potatoes on a sheet of foil since their sugary juices can drip and burn on the bottom of the oven. Bake the potatoes up to an hour ahead of time and keep them warm in the turned-off oven.
Of course, you want to lay out all the usual fixings—sour cream, butter, chopped bacon, chives, shredded cheese—but you can take it even further by offering chili (vegetarian or meat-based), chopped or crumbled sausages, salsa, kimchi, various hot sauces, sautéed greens…you get the picture. Let people's imagination run wild. If you do want to offer some guidelines, here are 5 fully-loaded ideas:
1. The Brat Pack: Sizzling bratwurst (chopped hot dogs also work, and make kids especially happy!), tangy sauerkraut and golden onions nestled into a fluffy potato? Touchdown. We like the additional spark of some grainy mustard.
2. The Taco Tater: Think of your potato as a giant tortilla and load it up with salsa, crumbled queso fresco and sliced jalapeños. Make it a meal with the addition of chopped Applegate Natural Chicken and Cheddar Sausage.
3. The All-American: Who can resist the classic combination of ham and steamed broccoli drizzled with a creamy cheese sauce? We like to use Applegate Natural Slow Cooked Ham and an easy white sauce made with Applegate Natural Extra Sharp Cheddar Cheese.
4. The Perfect Potato Pizza: For some people, it's just not a party unless there's pizza. This is the potato for them—topped with tomato sauce, plenty of shredded mozzarella, Applegate Natural Pepperoni (chop it to make it easier to eat), black olives and green peppers. Run the whole potato under the broiler for extra ooze action.
5. The Mean Joe Green: Sautéed greens (we like kale, chard or spinach) topped with crisp bacon and chopped spicy peppadews? Yes, please! This colorful combo is especially good on a sweet potato.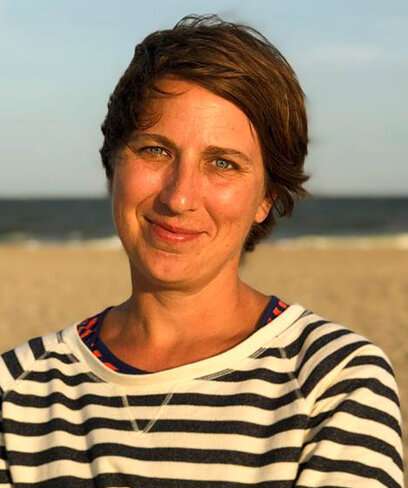 Kate Winslow
Kate Winslow is the author of Onions Etcetera: The Essential Allium Cookbook (Burgess Lea Press, 2017), as well as the co-author of The Agricola Cookbook and Coming Home to Sicily. A former editor at Gourmet magazine, Kate currently works with her husband Guy Ambrosino, a photographer, to test, develop and photograph recipes for cookbooks, magazines and, most fun of all, Applegate! Kate and Guy live along the Delaware River in New Jersey with their 12-year-old son, yellow lab and six chickens. Their work can be seen at kateandguy.com.