15 Sport Snacks for Your Little Athlete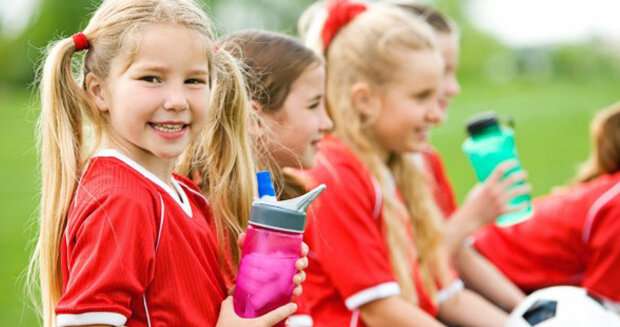 It's not easy getting your child to eat healthy snacks before a big football game or soccer practice, but these bite-sized nibbles are perfect for trying something new. We bet they won't be able to stop at just one. With the sky-high sugar content and endless list of unidentifiable ingredients in store-bought processed snacks, they aren't exactly an ideal choice. These homemade snacks are rich in fiber, lean protein and healthy fats so your little athletes will be satisfied until dinnertime and energized for their afternoon exercise.
Fruit Parfait
Layer ½ cup sliced strawberries with ½ cup Greek plain yogurt, 2 Tbsp. ground flax seeds and a tablespoon of almond butter into a sealable plastic cup wrapped with a rubber band and secured with a spoon on top for easy eating.
Smoothie
Combine 2 fresh oranges with 1 cup frozen blueberries, 1 cup frozen cherries, ½ cup grapes, 1 ripe avocado, 6 ice cubes and cinnamon in a blender; pulse until smooth. Serve chilled.
Granola
Preheat oven to 350 degrees F. Combine 6 cups gluten-free oats, ½ cup chopped pecans, ¼ cup sunflower seeds, 1/3 cup ground flax seeds, 2 egg whites, ¼ tsp. sea salt, ½ cup honey, 1 tsp. cinnamon and ½ cup golden raisins in a large bowl; mix well to combine. Transfer to a baking sheet in the oven for 25 minutes, stirring occasionally. Get creative with your kids and let them pick out new fruits and nuts to add into the mix such as Brazil nuts and dried mango.
Cheese and Rice Crackers
Cut Applegate Natural Probiotic Yogurt Cheese into thirds, place each third onto a rice cracker.
Sunflower Seed Butter Stuffed Apple
Core an apple and cut into 6 even slices. Top one side of each apple slice with sunflower seed butter; sprinkle with cinnamon.
Toast with Hummus and Cucumbers
Toast one piece of gluten-free bread, top with hummus and thinly sliced cucumbers.
Ham Open Face Sandwich with Salsa
Top a slice of gluten-free toast with 2 slices of Applegate Ham, mustard, finely chopped fresh parsley, salsa and mango.
Almond Butter, Slivered Almonds and Banana Wrap
Lay a corn (or gluten-free) tortilla on a flat surface. Top with 2 Tbsp. almond butter, ½ tsp. cocoa powder, 2 tsp. slivered almonds and a thinly sliced banana; wrap like a burrito, secure with toothpicks and serve in parchment paper.
Apple Butter, Turkey and Fresh Pear Wrap
Lay a corn (or gluten-free) tortilla on a flat surface. Top with 2 Tbsp. apple butter, 2 slices of Applegate Natural Herb Turkey and 2 thinly sliced pears; roll up and slice in half securing with 2 toothpicks.
Roast Beef, Grated Carrot and Guacamole
Lay a corn (or gluten-free) tortilla on a flat surface. Top with guacamole or mashed avocado, grated carrot, 1 slice of Applegate Natural Roast Beef and handful of Bibb lettuce.
Almond Butter and Turkey Slices
Lay two turkey slices next to each other on 2 (6 inch.) pieces of tin foil. Top each turkey slice with 1 Tbsp. almond butter and 1 tsp. dried cherries. Gently roll each turkey slice into a long roll. Wrap in tin foil until ready to eat.
Hard Boiled Egg Hard boil a dozen eggs for the week ahead. Place 2 hard-boiled eggs into a Ziploc bag with sea salt.
Cinnamon Popcorn
Toss air popped pop-corn into a Ziploc bag with cinnamon, sea salt and fresh basil.
Salted Edamame
Steam a cup of shelled edamame; set aside to cool and place into a sealed container or a Ziploc bag with a dash of sea salt.
Oven Roasted Strawberries
Preheat oven to 250 degrees F. Combine 1 cup strawberries and 1 Tbsp. honey in a bowl; transfer to a baking sheet. Bake for 1 hour 30 minutes. Remove from oven; set aside to cool before transferring into a Ziploc bag with cashews or pine nuts.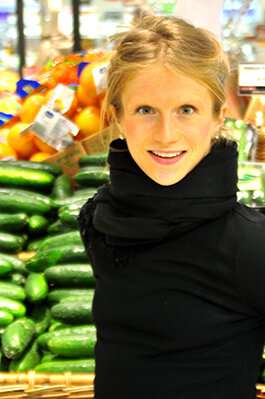 Amie Valpone
Amie Valpone, HHC, AADP is a Manhattan based Personal Chef, Culinary Nutritionist, Professional Recipe Developer and Food Writer specializing in simple Gluten-Free, Dairy-Free 'Clean' recipes for the home cook. She is the Editor-in-Chief of The Healthy Apple and the Publisher and Marketing Director of the online gluten-free magazine, Easy Eats. Follow Amie on Twitter @TheHealthyApple and on Facebook at The Healthy Apple //thehealthyapple.com