Spaghetti Pie with Prosciutto and Broccoli Rabe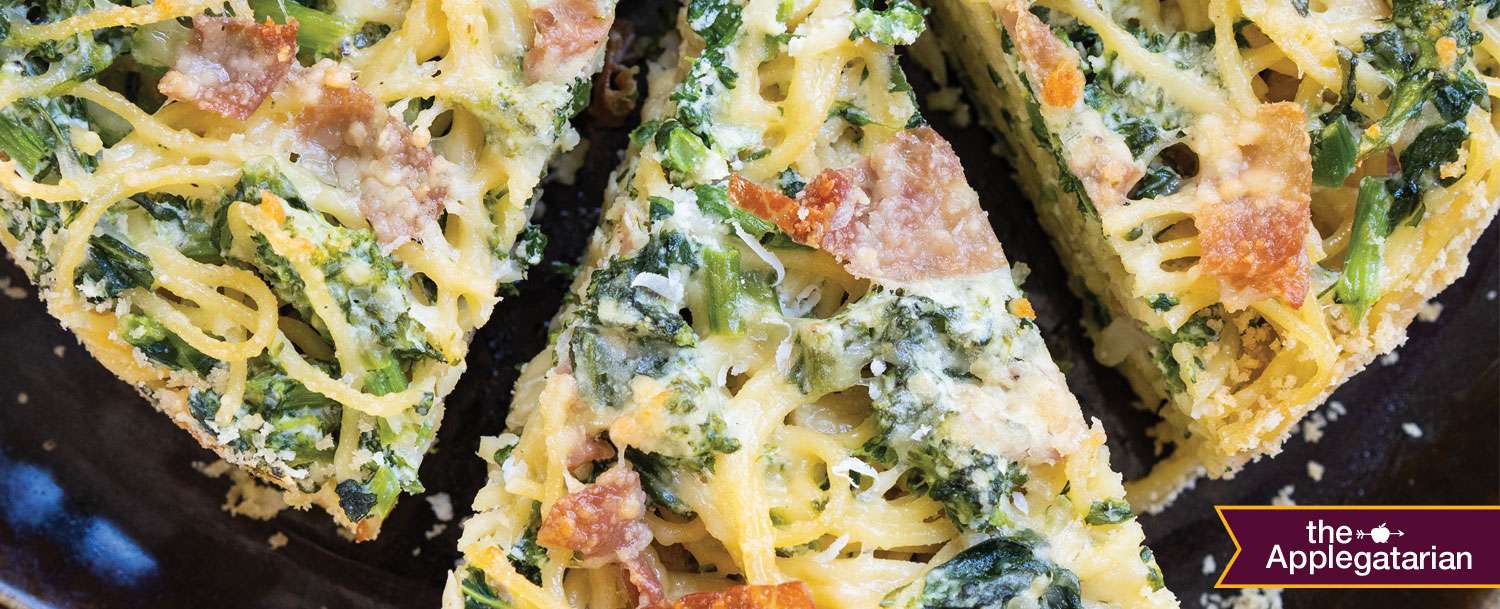 We like to assemble this "pie" earlier in the day, pop it in the fridge, and then bake it off just before dinner. Serve it with a big leafy salad and dinner is done.
Serves 6 | Total Time: Less Than 60 Mins
Ingredients
1/3 cup breadcrumbs
1 bunch broccoli rabe (about 1 pound), trimmed
2 garlic cloves, peeled 
1 pound dried spaghetti 
1 cup ricotta
2 large eggs
½ cup plus 2 tablespoons grated Parmesan, divided 
Kosher salt and freshly ground black pepper
1 (3-ounce) package APPLEGATE NATURALS® Prosciutto, sliced into ribbons
1 tablespoon olive oil
Instructions
Preheat the oven to 400°F. Grease a 10-inch springform pan and dust the bottom and sides with the breadcrumbs. Wrap the bottom of the pan in aluminum foil then place on a rimmed baking sheet (to catch any leaks). Set aside.
Bring a large pot of salted water to a boil. Add the broccoli rabe and the garlic cloves and cook until the broccoli rabe is bright green and crisp-tender, about 3 minutes. Using a slotted spoon, transfer the broccoli rabe and garlic to a colander and set aside to drain. When cool enough to handle, chop the broccoli rabe into ½-inch pieces. Finely chop the garlic separately.
Add the spaghetti to the boiling water and cook until very al dente (it will finish cooking in the oven). Drain well, reserving 1 cup or so of the pasta cooking water.
Meanwhile, whisk together the ricotta, eggs, ½ cup Parmesan and chopped garlic in a large bowl. Season to taste with salt and plenty of black pepper.
Add the spaghetti and broccoli rabe to the ricotta mixture and toss gently until well combined, adding some of the pasta cooking water to loosen the mixture if needed.
Place about½ of the spaghetti mixture into the springform pan, followed by about½ of the pieces of prosciutto. Top with another ½ of the spaghetti mixture, followed by another½ of the prosciutto. Finish with the remaining spaghetti and prosciutto. Drizzle the olive oil and sprinkle the remaining Parmesan over top.
Bake the pie until set and golden brown on top, about 25 minutes. Remove from the oven and let rest for at least 5 minutes before removing the sides of the pan and transferring the "pie" to a serving platter. Cut into wedges and serve.