Sausage Skewers with Spicy Herb Butter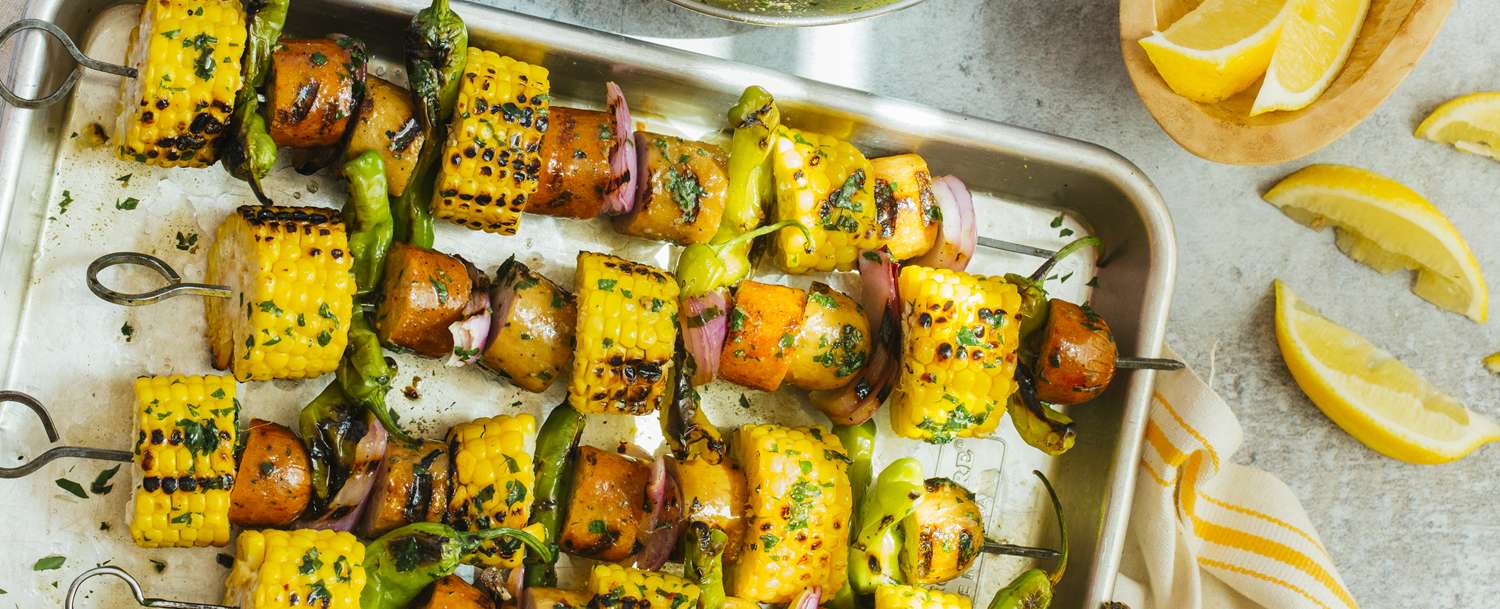 Colorful veggies, juicy sausages and a spicy, lemony butter sauce make this a complete meal on a skewer. Steaming corn makes it easier to cut into rounds and thread onto skewers before grilling, and ensures that everything else cooks at an even rate.
Total Time: Less Than 15 Mins
Ingredients
6 tablespoons Vital Farms Sea Salted Butter
2 tablespoons chopped fresh herbs, such as parsley, basil, mint, chives, oregano and/or cilantro Finely grated zest of 1 lemon
¼–½ teaspoon crushed red pepper flakes 4 ears corn, husked
1 package APPLEGATE ORGANICS® Fire-Roasted Red Pepper Chicken Sausages, cut into 1-½-inch-thick rounds
1 package APPLEGATE ORGANICS® Sweet Italian Chicken Sausages, cut into 1-½-inch-thick rounds
1 large red onion, cut into wedges 12 ounces shishito peppers
Instructions
Melt the butter in a small skillet, stir in the herbs, lemon zest and crushed red pepper flakes. Keep warm over low heat.
Steam the corn until crisp-tender, then cut each ear into 4–5 rounds.
Thread the sausages, onion wedges, shishito peppers and corn onto metal skewers. Brush some of the herb butter onto the skewers. Grill the skewers until vegetables are crisp tender and sausages are browned and hot, brushing more butter on as they grill and after they come off the grill. Serve at once.