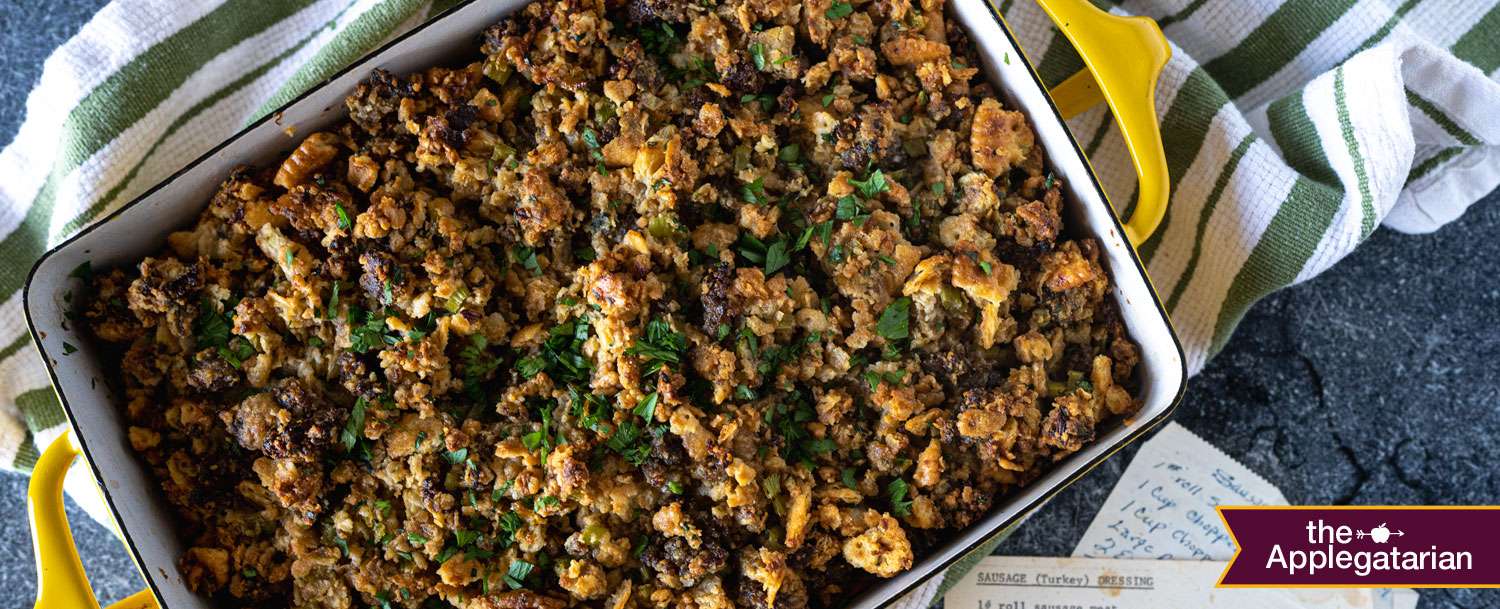 As featured in The Applegatarian. 
"My mom, Diane Burns, was an awesome cook, who was always cooking really complicated recipes from magazines, but come Thanksgiving, the menu could not deviate. Everything had to look, smell, and taste the same as it did every year!  There was always mashed sweet potatoes with marshmallows toasted under the broiler and a gelatin mold with fruit and a sour cream sauce that was served with a sterling silver spoon - and this dressing.  Often, my mom would try to add something more current to the menu, and everyone would rebel and say, 'Absolutely not! Just the classics!'  This recipe originally came from my father's mother, Jean Burns, but my mom took over making it early on, and it's always been a family favorite. Now, whoever hosts Thanksgiving has to make it."
Jenny Burns, Applegate Senior Director, Innovation and Brand Equity
Serves 6-8 | Total Time: More Than 60 Mins
Ingredients
1 pound fresh breakfast sausage
2 tablespoons unsalted butter 
1 cup finely chopped onion
1 cup chopped celery
1 (13.7-ounce) box butter crackers
¼ cup sherry
2 large eggs, lightly beaten
2 tablespoons finely chopped fresh parsley
Instructions
Preheat the oven to 350°F. Butter a large casserole dish.
In a large heavy skillet over medium heat, cook the sausage, breaking it up with a wooden spoon and draining off the fat periodically, until soft but not browned, 8-10 minutes. Drain off the remaining fat, then transfer the cooked sausage to a large bowl.
Return the skillet to the stove over medium heat. Add the butter, onions, and celery and cook, stirring frequently, until tender, about 10 minutes. Remove from the heat and scrape the vegetables into the bowl with the sausage.
Place the crackers in a resealable plastic bag and pound with a rolling pin until finely crushed; add to the bowl. Drizzle the sherry over the top and add the eggs. Mix gently until very well combined. Fold in the parsley.
Transfer to the buttered casserole dish and bake until the top is crisp and golden brown, about 45 minutes. Serve hot.
Note: Dressing can also be used to stuff the cavity and neck of a turkey.