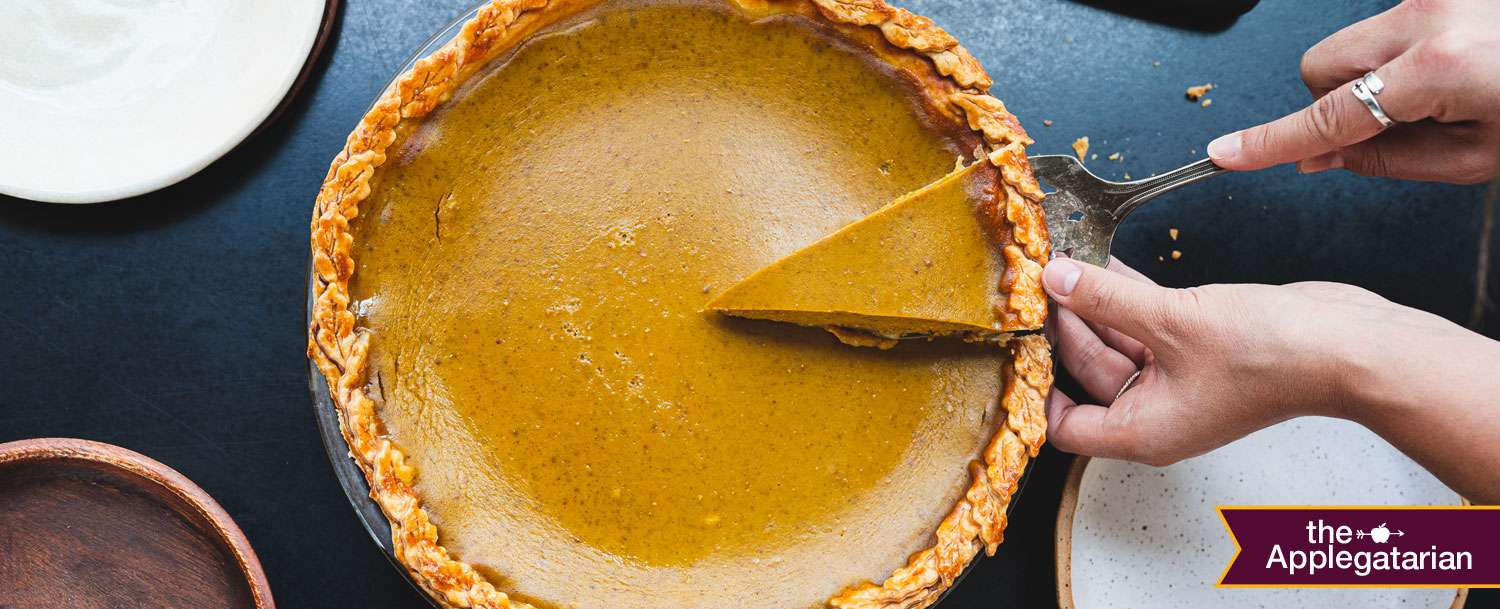 "I found this recipe online about 10 years ago, and I've been making it for Thanksgiving ever since.

 The recipe makes two pies, so I usually make one with a pastry crust and one with a graham cracker crust. You definitely need to use a sugar pumpkin for this - NOT a jack o' lantern pumpkin. 

 Sugar pumpkins (sometimes labeled 'pie' pumpkins) are smaller and should fit in your hand, about 8 to 10 inches in diameter. (Substitute 3 cups canned pumpkin if you 

can't find a sugar pumpkin.)". 

Bianca Rooney, Applegate Sales Coordinator
As featured in The Applegatarian. 
Serves 16 | Total Time: More Than 60 Mins
Ingredients
1 sugar pumpkin (about 4 pounds)

18 ounces evaporated milk

3 large eggs

3 large teaspoons vanilla extract

1 cup granulated sugar

1½ teaspoons ground cinnamon

1 teaspoon ground cloves 

1 teaspoon ground allspice

½ teaspoon ground ginger

½ teaspoon kosher salt

2 (9-inch) pie crusts, store-bought or homemade
Instructions
Preheat the oven to 375°F. Cut the pumpkin in half lengthwise and scoop out the seeds (you can roast them for a tasty snack). Place the pumpkin halves face up in a baking pan and bake until the pumpkin is cooked and can be effortlessly pierced all the way through with a butter knife, about 1 hour. Remove from the oven and let cool.
Peel off the pumpkin skin and mash the flesh (you should have about 3 cups). You can use a mixer, blender, food processor, potato masher-anything you'd like! Place the pumpkin puree in a strainer or sieve set over a bowl, to drain. Let sit in the fridge for at least an hour to drain the excess moisture.
Preheat the oven to 425°F. Transfer the drained pumpkin to a mixing bowl. Add the evaporated milk, eggs, and vanilla extract and mix well. Combine the sugar and spices in a separate bowl and add to the pumpkin mixture. Mix well. Divide the pumpkin mixture evenly between the 2 pie shells.
Bake the pies for 15 minutes. Lower the temperature to 350°F and bake until a butter knife inserted in the center comes out clean, 45 minutes-1 hour (check at 45 minutes and bake longer if necessary). Remove from the oven and let cool completely on a wire rack.
Note: Pies can be made 1 day ahead, covered in plastic wrap, and stored at room temperature.