Bacon-Wrapped Turkey Roulade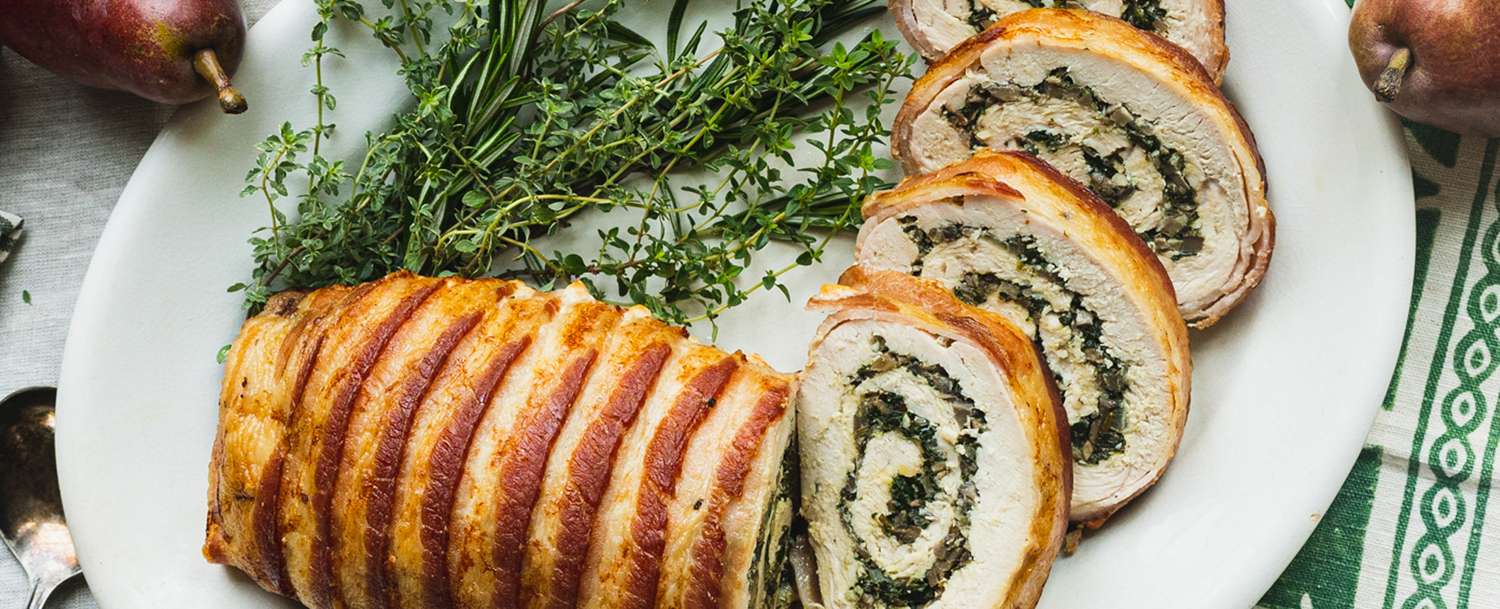 Featured in The Applegatarian.
"This recipe was born out of necessity. Every year, you get a free turkey if you spend a certain amount of money at the grocery store. My wife doesn't like dark meat, so I picked up a turkey breast instead, which I deboned, butterflied, stuffed, and rolled—it was great! 
We have made various versions over the years, and while you can use any filling, including traditional stuffing or sausage, we found that keeping it simple is the best. Turkey breast meat is inherently dry, so I wanted something that adds a lot of moisture; hence, the mushrooms and spinach. 
W

rapping it with bacon bastes it from the outside. It's cheaper to buy a full bone-in, skin-on turkey breast, which gives you plenty of surface area, so you get a nice roll. 

It's easy enough to do yourself (there are tons of videos online to help), or ask your butcher to do it for you." 
- Stefan Oellinger, Applegate Senior Director of Raw Business
SERVES 10 | Total Time: More Than 60 Mins
Ingredients
• 8 ounces mushrooms, chopped
• 2 cups spinach leaves, stems discarded, leaves chopped
• 1 yellow onion, chopped
• 2 tablespoons finely chopped fresh rosemary
• 3 cloves garlic, finely chopped
• 2 tablespoons extra-virgin olive oil
• Kosher salt and freshly ground black pepper
• 4 pounds boneless, skinless turkey breast, butterflied (from a 5- to 6-pound whole bone-in, skin-on breast)
• 2 (8-ounce) packages APPLEGATE® SUNDAY BACON®
Instructions
Preheat the oven to 375°F.
In a nonstick skillet over medium-high heat, cook the mushrooms, spinach, onion, garlic, and rosemary in 1 tablespoon olive oil, stirring occasionally, until softened, about 8 minutes. Season with salt and pepper. Remove from the heat and set aside to cool.
Cover a large cutting board or work surface with plastic wrap. Lay the butterflied turkey breast, "skin"-side down, on the plastic wrap (this will make it easier to roll). To help create a uniform thickness to start, slice horizontally into any thicker sections and lay the slices open like a book, or make crosswise cuts into any thicker parts (which will help make it easier to pound). Don't worry if any pieces become detached; just overlap them slightly. Cover the breast with plastic wrap and pound the meat with a mallet or rolling pin to flatten it to an even thickness of about ¾ inch.
Remove the top sheet of plastic wrap. Sprinkle the inside of the breast with salt and pepper. Spread the cooled vegetable mixture evenly over the turkey and roll up tightly to enclose. Use wooden skewers or large toothpicks to secure the ends of the roulade, if necessary. Transfer the roulade, seam-side down, to a large roasting pan or rimmed baking sheet. Wrap the bacon around the roulade, overlapping the slices; tuck the ends under the turkey.
Roast until the internal temperatures of the roulade registers 175°F on an instant-read thermometer, 1 hour–1 hour
15 minutes. Remove from the oven and let rest for about 5 minutes. Remove any skewers before slicing and serving.