French Onion Mushroom Cups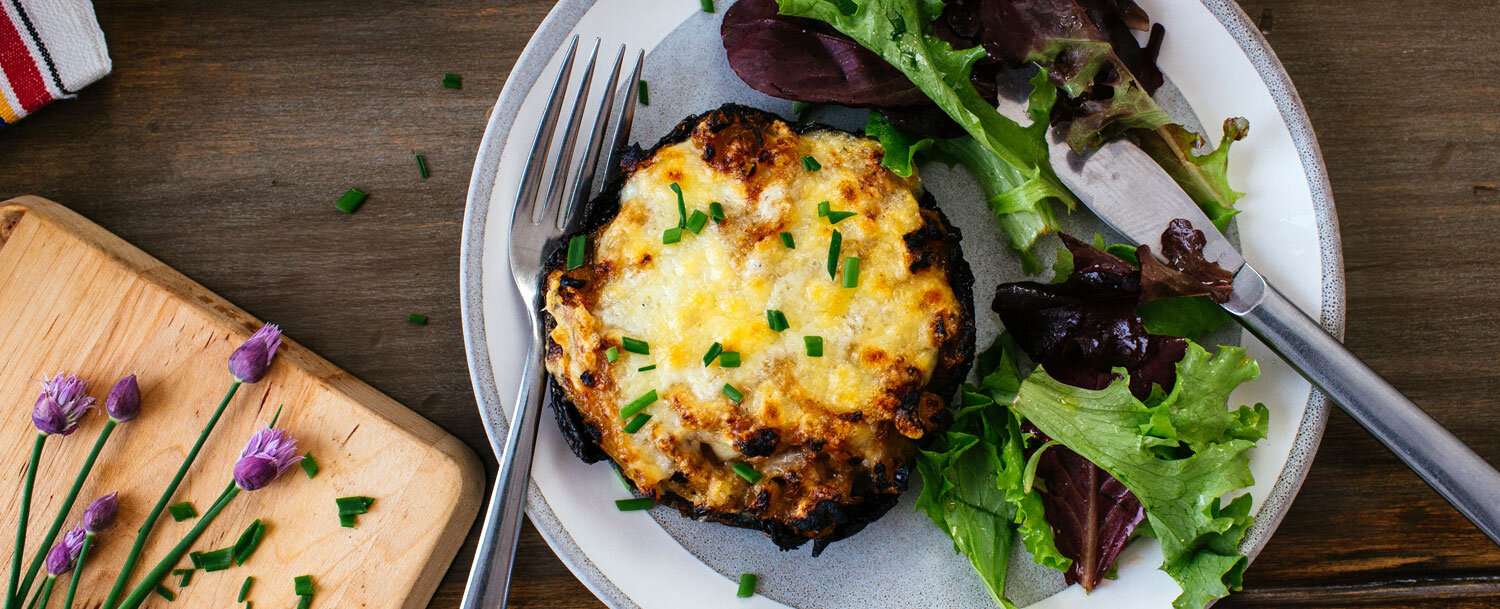 These stuffed portobellos make a great vegetarian main course, served with a crisp green salad, but feel free to add a slice of Applegate Organics® Roast Beef or Black Forest Ham under the onions to please meat lovers. Having a party? Use cremini mushrooms in place of the portobellos and make these as an appetizer.
Serves 4-6 | Total Time: Less Than 15 Mins
Ingredients
6 portobello mushrooms, stems removed
¼ cup olive oil
Kosher salt and freshly ground black pepper
Handful of fresh thyme sprigs
2 cups Caramelized Onions (recipe follows)
1 (6-ounce) package Applegate Naturals® Shredded Cheddar Cheese
Instructions
Preheat the oven to 400°F. Line a baking sheet with parchment paper.
Arrange the mushrooms, gill sides up, on the baking sheet and drizzle with the olive oil. Season with salt and pepper and scatter the thyme sprigs around the pan.
Bake until the mushrooms are tender, about 30 minutes.
Remove from the oven and divide the onions evenly over the mushrooms then top with the shredded cheese.
Turn on the broiler.
Broil the mushrooms until the cheese is melted and golden brown, about 5 minutes.
Remove from the oven and serve hot.
Caramelized Onions
Make a batch of these and keep them in the fridge!
Makes about 2 cups / Takes less than 1 hour
2 tablespoons olive oil
3 pounds sweet onions, sliced
2 fresh thyme sprigs
Kosher salt
1 tablespoon balsamic or wine vinegar, optional
Combine the onions, olive oil and thyme in a large heavy skillet over moderate heat. Season with ½ teaspoon salt. Cook the mixture, stirring from time to time, until the onions are meltingly soft, browned and caramelized, 40 to 45 minutes.
After about 20 minutes of cooking, you will have to stir the softened onions more often, as they begin to stick to the bottom of the pan. Make sure to scrape up that browned goodness and stir it into the onions.
Stir in the vinegar during the last few minutes of cooking. Remove from the heat.
The caramelized mushrooms can be refrigerated for up to 1 week.