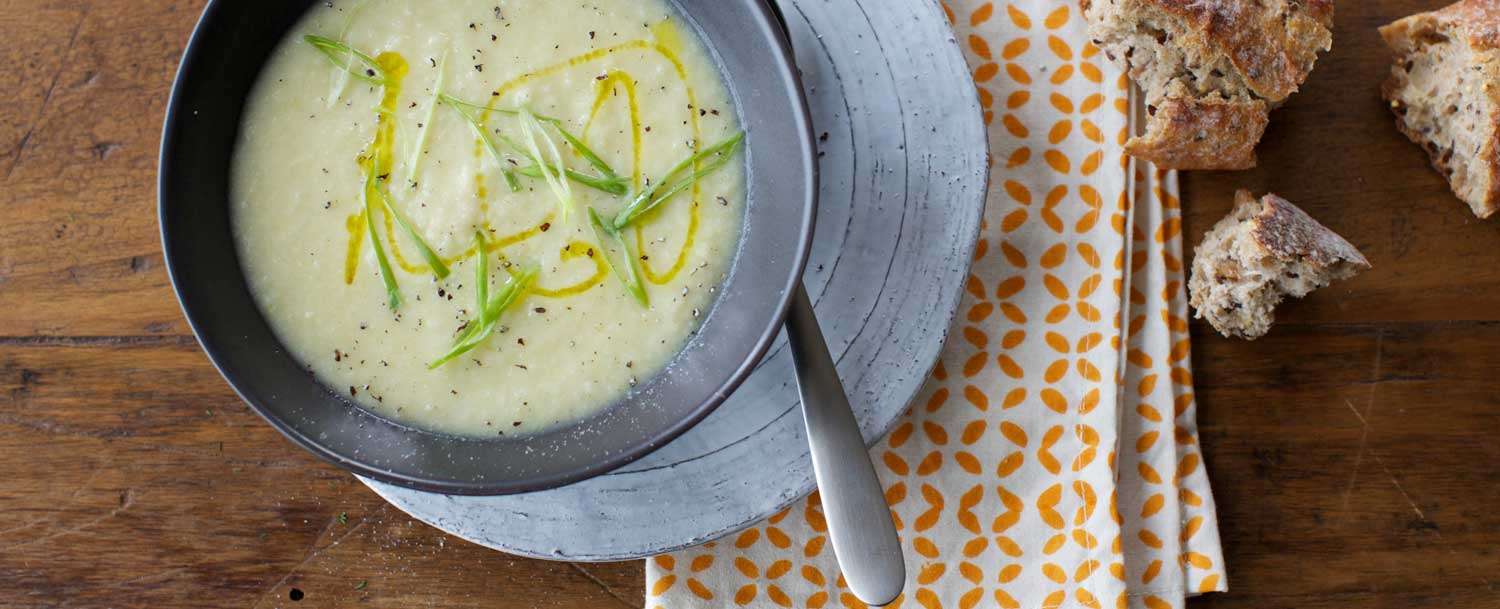 This creamy soup is elegant enough to kick off a formal meal, but satisfying enough to serve for lunch, eaten at your desk while you try to make a deadline.
Serves 6 | Total Time: More Than 60 Mins
Ingredients
2 tablespoons extra-virgin olive oil, plus more for drizzling
2 leeks, chopped
2 ribs celery, chopped
1 large head cauliflower (about 2 pounds), broken or chopped into small florets
1 russet potato, peeled and chopped
½ teaspoon dry mustard
6 cups chicken or vegetable broth
Salt and freshly ground black pepper
6 ounces Applegate Naturals® Medium Cheddar Cheese, chopped
½ cup half and half or heavy cream, or to taste
Thinly sliced scallions, for garnish
Instructions
Heat 2 tablespoons olive oil in large heavy pot over medium heat and add the leeks and celery. Cook, stirring occasionally, until vegetables are softened, about 10 minutes.
Add the cauliflower, potatoes, mustard and broth. Bring to a boil, then reduce heat and simmer, partially covered, until vegetables are very soft and falling apart, 30–40 minutes. 
Remove from heat and, working in 2 batches, blend the soup in a blender until smooth (use caution when blending hot liquids). Alternatively, use an immersion blender to purée the soup.
Return the soup to the pot and season to taste with salt and pepper. Warm the soup so that it is hot but not boiling, then add the cheese a handful at a time, stirring until it melts before adding another handful.
Once all the cheese has been added, add the cream to thin the soup as necessary. Taste and season again with salt and pepper.
To serve, ladle soup into warm bowls. Drizzle the soup with some extra-virgin olive oil and garnish with sliced scallions. Serve immediately.
Keep the soup in an airtight container for up to 5 days in the refrigerator, and up to 1 month in the freezer.