Sauerkraut Soup with Sausage and Potatoes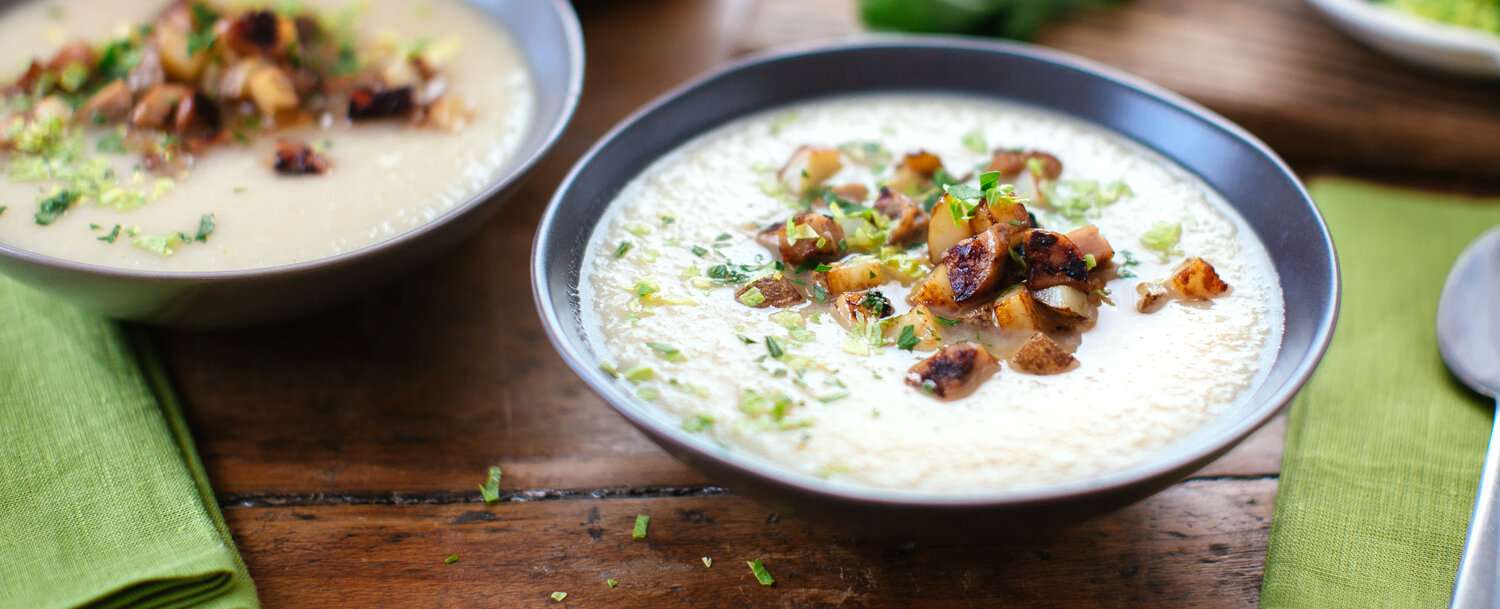 Looking for a way to incorporate more probiotic-rich sauerkraut into your life? Try this easy soup. Kraut makes an intriguing, gently tangy base that goes great with tender potatoes and savory chicken sausage. If you prefer a chunkier soup, chop the sauerkraut before adding it to the pot, add both the potatoes and sausage to cook in the soup, and omit blending it at the end.
Serves 4 to 6 | Total Time: Less Than 60 Mins
Ingredients
4 tablespoons olive oil, divided
1 large onion, chopped
2 celery ribs, chopped
1 bay leaf
2 russet potatoes
2 cups sauerkraut, rinsed and drained
5 cups chicken broth
Salt and freshly ground black pepper
¼ cup heavy cream, optional
Chopped celery leaves and parsley leaves, for garnish
Instructions
Heat 2 tablespoons olive oil in a medium soup pot over medium heat. Add the onion, celery and bay leaf and cook, stirring occasionally, until softened, about 10 minutes.
Meanwhile, peel the potatoes and cut into ½-inch dice. Quarter the sausages lengthwise and chop.
Add half of the potatoes to the pot, along with the sauerkraut and chicken broth and bring to a simmer. Simmer until the potato is very soft, about 25 minutes. Pluck out the bay leaf and discard. Using an immersion blender or food mill, blend soup until smooth. Season to taste with salt and pepper. Stir in cream, if you like. Keep warm over low heat.
Heat the remaining 2 tablespoons olive oil in a skillet over medium-high heat. Add the remaining potatoes and cook until golden, about 8 minutes. Add the chopped sausage and continue to cook until potatoes are browned and tender, about 5 minutes more.
To serve, divide the soup among bowls and top with the browned potatoes and sausage. Garnish with chopped celery and parsley leaves.