Mac and Cheese with Bacon and Broccoli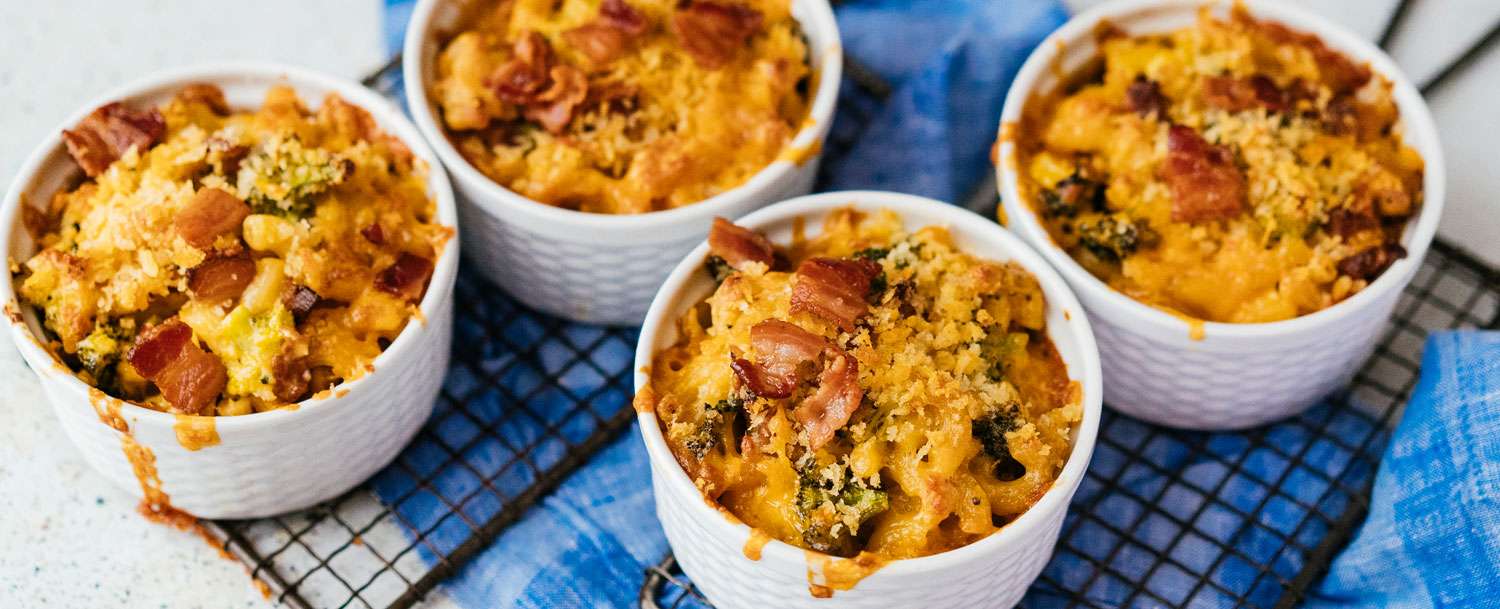 Mac and cheese with the added bonus of bacon! And broccoli! Serve these individual ramekins for a main course (with a salad on the side) or divide into smaller ramekins as a side course.
Serves 4 to 6 | Total Time: Less Than 60 Mins
Ingredients
8 ounces broccoli, chopped
8 ounces dried macaroni
8 ounces APPLEGATE NATURALS® SUNDAY BACON®, chopped
2 tablespoons all-purpose flour
2 cups whole milk
½ teaspoon onion powder
1 bay leaf
Kosher salt and freshly ground black pepper
8 ounces sharp cheddar cheese, grated
½ cup panko breadcrumbs
2 tablespoons butter, melted
Instructions
Heat oven to 350°F. Butter four (8-ounce) ramekins and place on a baking sheet.
Bring a large pot of salted water to a boil. Add broccoli and boil until bright green and crisp tender, about 3 minutes. Scoop out and drain well; transfer to a large bowl. Add pasta to the boiling water and boil until tender. Drain well and add to the bowl of broccoli.
Meanwhile, cook bacon in a deep medium skillet over moderate heat, stirring occasionally, until browned and crisp. Transfer bacon to a paper towel lined plate to drain. Pour off all but 2 tablespoons bacon fat from skillet. Add flour to the bacon fat and cook over moderately low heat, whisking constantly, for 3 minutes. Gradually whisk in milk, then stir in onion powder and bay leaf. Season lightly with salt and pepper. Simmer gently, stirring often, until smooth and thickened, about 12 minutes.
Remove from heat and stir in all but ½ cup of the cheese. Pour cheese sauce over the macaroni and broccoli, add bacon and stir gently to combine. Spoon half of mixture into bottoms of the ramekins. Sprinkle remaining cheese into the ramekins then top with remaining macaroni mixture.
Stir together breadcrumbs and melted butter then sprinkle over macaroni mixture. Place ramekins in the oven and bake until bubbling and golden brown, about 30 minutes. Remove from the oven and serve.