French Onion Soup with Crispy Bacon Topping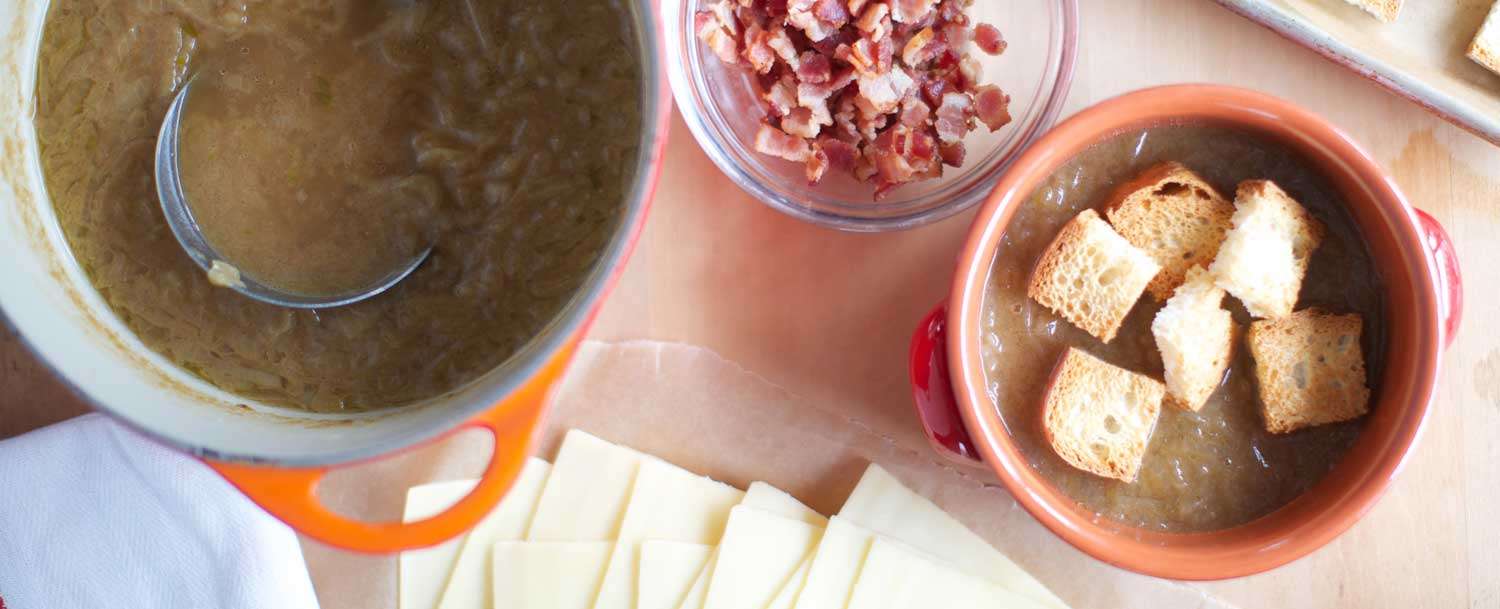 Does this classic really need a description? We think not, but you'll be happy to give this recipe a try.
Serves 6 | Total Time: Less Than 15 Mins
Ingredients
 4 tablespoons butter
2 large Vidalia yellow onions, thinly sliced
½ teaspoon sugar
6 slices Applegate Naturals® Sunday Bacon® Brand cut into ¼ inch pieces
1 tablespoon. gluten-free all purpose flour
1/2 cup dry sherry
3 cups beef stock
1 teaspoon dried thyme
Sea salt and freshly ground black pepper, to taste
12 slices of gluten-free bread, toasted and cut into ¼ inch "crouton" pieces
Instructions
Melt butter in a large pot over medium heat. Add onions and sugar; cook until onions start to caramelize.
Meanwhile, in a small pan over medium-high heat, cook bacon until browned, approximately 5 minutes. Remove from heat, place onto a paper towel to cool.
Add gluten-free flour, sherry, beef stock and thyme to the onion mixture; bring to a simmer. Cook for 40 minutes. Season with sea salt and pepper to taste.
Transfer soup into six ovenproof soup bowls on a baking pan. Place crouton pieces over each bowl of soup. Lay a slice of cheese over the croutons in each bowl, and place under the broiler until cheese is melted and crusty brown around the edges. Top with bacon.
Serve hot.