Whole30® Zuppa Toscana
A spin on a restaurant favorite, this hearty soup is creamy, satisfying and takes less than an hour to pull together.
Ingredients
1 (8-ounce) package Applegate® No-Sugar Sunday Bacon, chopped
1 (16-ounce) package Applegate® Turkey Burgers
1½ tablespoons dried Italian seasoning
½ teaspoon crushed red pepper flakes
Kosher salt
1 tablespoon olive oil
1 yellow onion, chopped
2 carrots, chopped
4 garlic cloves, finely chopped
4 cups chicken stock
4 cups chopped cauliflower florets
1 (14-ounce) can coconut milk, well shaken
4 cups chopped kale leaves
Freshly ground black pepper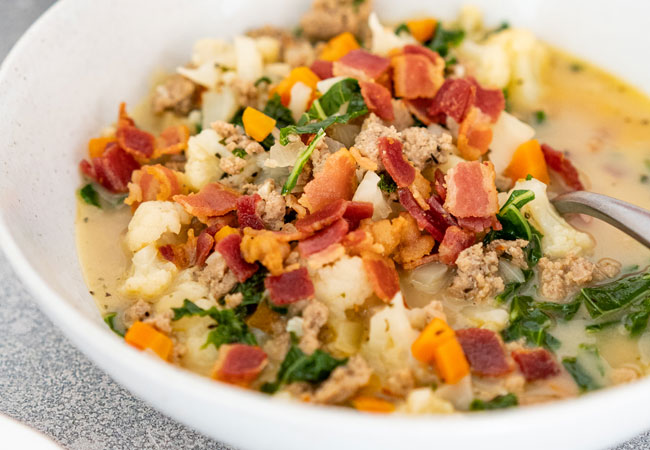 Instructions

In a heavy soup pot over medium heat, cook the bacon, stirring frequently, until browned and crisp, about 8 minutes. Use a slotted spoon to transfer the bacon to a paper towel–lined plate.
Add the frozen burgers to the bacon fat in the pot and cook over medium heat, using a wooden spoon to break up the meat into bite-sized pieces. Sprinkle the Italian seasoning, red pepper flakes and 1 teaspoon kosher salt over the turkey and mix in well. Cook, stirring occasionally, until browned and cooked through, about 10 minutes. Transfer the turkey to a bowl and return the pot to the heat.
Add the olive oil, onions, carrots and garlic to the pot. Cook, stirring frequently, until softened, about 5 minutes. Add the chicken stock. When mixture begins to simmer, add the cauliflower florets. Simmer gently until cauliflower is crisp-tender, about 8 minutes.
Stir in the coconut milk and the cooked turkey. Cook until heated through, about 5 minutes. Add the kale and cook until tender but leaves are still bright green, 3 to 5 minutes. Season to taste with salt and pepper.
Ladle soup into bowls and sprinkle with reserved bacon. Serve hot.