Turkey Meatballs with Chickpea and Chopped Veg Salad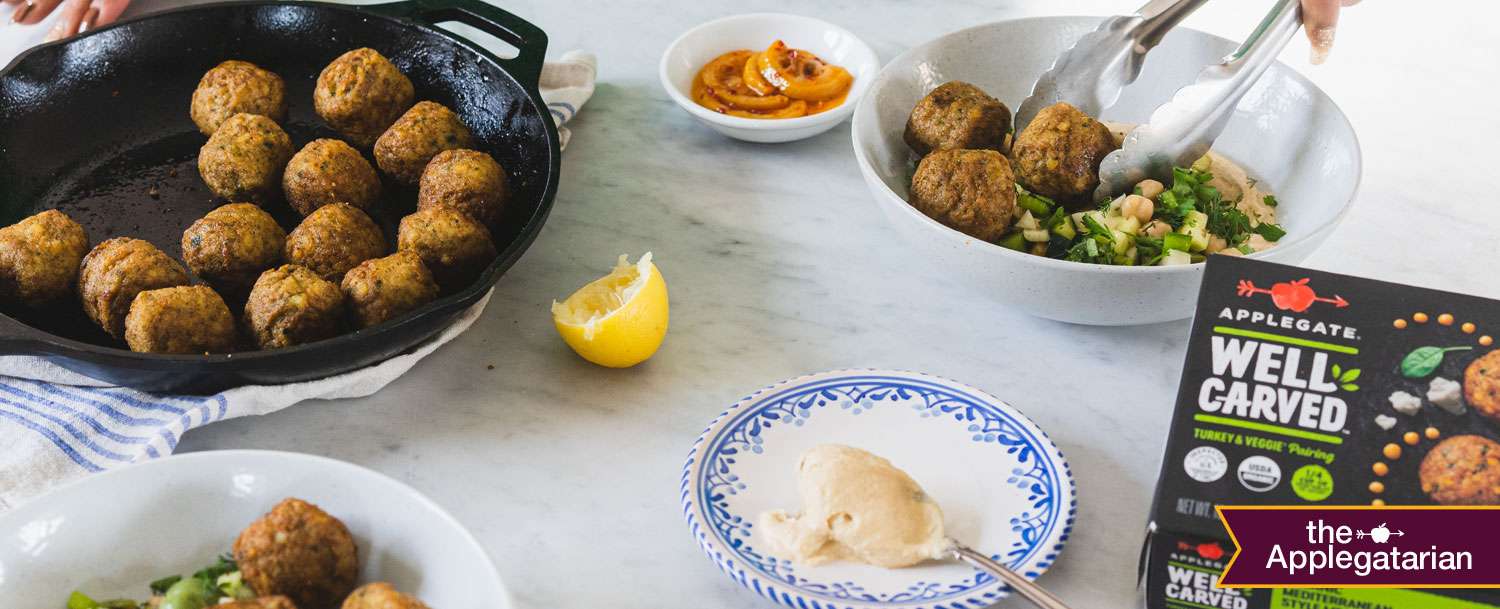 You can enjoy this simple combo as is, or embellish it with steamed rice or quinoa, fresh mango and other vegetables like carrots, broccoli, zucchini or bell pepper.
As Featured in The Applegatarian.
Serves 6 | Total Time: Less Than 60 Mins
Ingredients
2 (10-oz) packages APPLEGATE® WELL CARVED™ Organic Mediterranean-Style Meatballs
½ small sweet onion, finely chopped
2 Tbsp chopped preserved lemon rind
2 Tbsp freshly squeezed lemon juice
1 tsp cumin seeds, lightly toasted
5 Tbsp extra virgin olive oil
Kosher salt and freshly ground black pepper
1 (14-oz) can chickpeas, rinsed and drained
2 ribs celery, sliced
1 cucumber, chopped
1 green bell pepper, seeded and chopped
1 kohlrabi, peeled and chopped1 small fennel bulb, chopped
1 cup large green olives, such Castelvetrano, pitted and torn
1 cup coarsely chopped mixed herbs, such as mint, parsley, dill and basil
3 cups hummus
Toasted pita bread, for serving
Instructions
Cook the meatballs according to package instructions.
Meanwhile, combine the onion, preserved lemon rind, lemon juice, cumin seeds, olive oil, ½ tsp salt and ¼ tsp pepper in the bottom of a large bowl. Whisk to combine. Add the chickpeas, celery, cucumber, bell pepper, kohlrabi, fennel and olives and toss well to combine. Taste and adjust the seasonings. Gently fold in the herbs.
Divide the hummus among 6 shallow bowls. Top with the chopped salad and meatballs. Serve at once with toasted pita on the side.