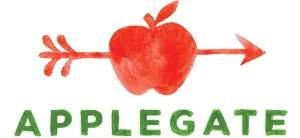 Spicy Sausage and Clam Stew
This is one of those dinners that takes minimal effort to produce incredible results—beautiful and intensely flavored. All you really need to complete the meal is a loaf of crusty bread, but the stew will serve even more people if you serve it over pasta or couscous.
Ingredients
4 tablespoons olive oil
1 yellow onion, chopped
1 (12-ounce) package Applegate Organics® Andouille Sausage, thickly sliced
1 ½ teaspoons smoked paprika
Pinch of crushed red pepper flakes
1 (16-ounce) can chickpeas, rinsed and drained
1 (14.5-ounce) can diced tomatoes
5 ounces baby spinach
50 littleneck clams, scrubbed
Instructions

Heat the olive oil in wide, heavy skillet over medium heat.
Add the onions and cook, stirring occasionally, until the onions begin to soften, about 5 minutes.
Add the sausages and cook until lightly browned all over, about 5 minutes. Stir in the smoked paprika and crushed red pepper flakes.
Add the chickpeas and tomatoes and stir to combine. Add the spinach and cook, stirring, until the leaves wilt.
Nestle the clams into the mixture and cover the skillet. Cook the stew until all the clams open, discarding any clams that don't open, about 10 minutes.
Baste the clams with the tomato sauce.
Remove the skillet from the heat and let rest, covered, for about 5 minutes before serving.